Ottawa, Ontario – Cheryl Gallant, MP Renfrew-Nipissing-Pembroke, is pleased to confirm all-party support for her Private Member's Legislation to restrict the fees charged by certain promoters of the Federal Government's disability tax credit.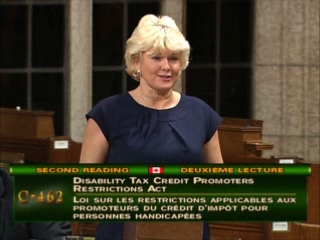 "While I am pleased to confirm that our Government supports Bill C-462, the Disability Tax Credit Promoters Restrictions Act, the fact that support for my Bill crosses party lines suggests that other MPs recognize my effort to solve the problem caused by some individuals who are taking advantage of the disabled," stated Cheryl Gallant, MP. "During the first hour of debate at second reading in the House of Commons, speakers from both the Official Opposition and the third party stated their support for my private member's Bill. With broad Government and party support, unlike most other private bills, this bill has a strong chance of becoming law."
"There have been cases where some Canadians living with a disability have had substantial portions of their DTC, sometimes as much as 35 per cent, taken away by promoters of this credit. I appreciate people living with a disability incur extra costs, and should have access to tax relief to support their wellbeing. I look forward to the Disability Tax Credit Promoters Restrictions Act moving through the parliamentary process."
The Disability Tax Credit Promoters Restrictions Act is intended to restrict fees that can be charged by a business preparing a Disability Tax Credit (DTC) application. It is a step forward in ensuring fair treatment of all eligible Canadian taxpayers.
The Disability Tax Credit is a non-refundable credit that may reduce the amount of income tax that either a person with a disability or their supporting person has to pay. To qualify, an individual must have a severe and prolonged impairment in physical or mental functions, as defined in the Income Tax Act and as certified by a qualified practitioner.
"A number of my constituents, including members of our Canadian Armed Forces and veterans, have expressed their concerns to me regarding unfair fees being charged by some promoters of the Disability Tax Credit," said MP Cheryl Gallant. "That money should be staying in the pockets of Canadians who need it, and not be charged away by unregulated promoters," concluded Cheryl Gallant, MP.
---