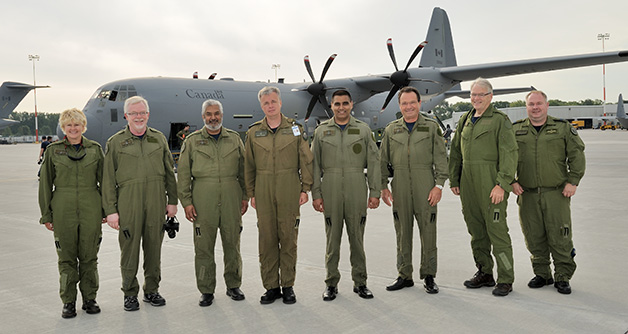 Photo: (left) Cheryl Gallant, MP with Members of the Standing Committee on National Defence, standing in front of a RCAF CC-130J Hercules Transport. 
Canadian Forces Base Petawawa, Ontario – Cheryl Gallant, MP Renfrew-Nipissing-Pembroke, is pleased to confirm that mental health services at CFB Petawawa are a top priority for the federal government. "With the additional $11 million allocated by Defence Minister Peter MacKay for mental health, the base is fully staffed with psychiatrists to meet the needs of our military population," confirmed Cheryl Gallant, MP.
"For CFB Petawawa, the Afghanistan operation represented an intense operational tempo. Military members and their families need to know the support back home is there if they need it. I am pleased to confirm that the psychiatrist requirement on base is staffed at 100%. There are 4.8 Psychiatrists serving a military population of 6000 personnel,(4.8 full time equivalent psychiatrists or approximately 1056 person-days per year)," stated MP Cheryl Gallant. "I understand all of Renfrew County does not have the same number of professionals to serve a catchment population of almost 100,000."
Base psychiatrists work out of the Warrior Support Centre which is part of the CF Health Services Centre that delivers clinical services and healthcare at CFB Petawawa. In addition to the Warrior Support Centre, CFB Petawawa operates a Joint Personnel Support Unit (JPSU) to assist military members and their families deal with the added burden of separated families as well as such ailments as post-traumatic stress disorders.
"As a Member of the Standing Committee on National Defence, I and our Committee have been undergoing a study of health services provided to Canadian Forces personnel with an emphasis on post traumatic stress disorder. When it comes to the delivery of healthcare services to military members and their families in Petawawa, the challenge has always been the lack of health care professionals in rural Ontario. I like to think we are making progress, however I recognize that more needs to be done," said Gallant, MP. "For a soldier in crisis, they can be seen right away. This is real progress from when the military Ombudsman issued his case study back in December of 2008 assessing the state of Mental Health Services at CFB Petawawa."
CFB Petawawa is the largest army base in Canada. It is the home base of 2 Canadian Mechanized Brigade Group, 2 Area Support Group Headquarters, Area Support Unit Petawawa, 2 Service Battalion and Combat Support Service Training Company, Group Signals Squadron, 1 Canadian Field Hospital, Canadian Medical Equipment Depot, Canadian Forces Special Operations Forces Command, and the Canadian Special Operations Regiment, elements of which are headed to Mauritania within weeks to support training for African troops to help prepare the African Union deal with the situation in Mali, West Africa.