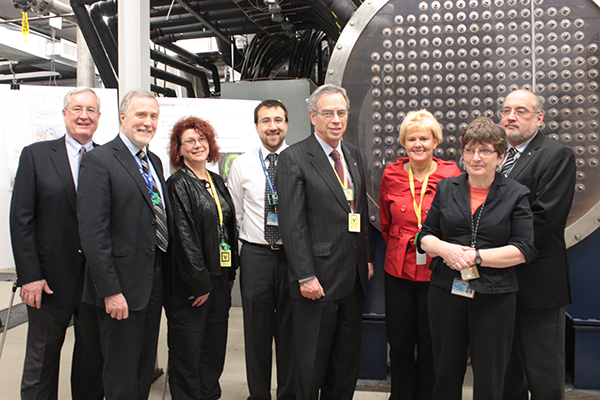 Photo: Cheryl Gallant, MP (3rd from right) with Minister of Natural Resources the Hon. Joe Oliver and AECL President Robert Walker touring the Chalk River Laboratories
Ottawa, Ontario – Cheryl Gallant, MP Renfrew-Nipissing-Pembroke welcomes the future of Science, Research and Development with the announcement that the Federal Government will continue the process of modernization at the Chalk River Laboratories by moving to the Government-owned, Contractor operator (GoCo) governance model that has proven so successful in other countries.
"What this is all about is putting in place the conditions for Canada's Nuclear Industry to thrive," stated Cheryl Gallant. "During the decade of darkness under the old government, AECL was directionless and starved for funding, just like our military was. This announcement is about demonstrating leadership in the energy sector and about Canada truly being recognized as a clean energy superpower. Nuclear has a critical role to play in climate change, to keep the price of electricity affordable and protect the air we breathe."
"CRL employees can be assured that I am sensitive to their situation during this transition period. I recognize their talent and expertise is critical for the future success of Canada's nuclear sector."
A Government Owned Contactor Operated (GOCO) model of governance, following the U.S. and British practice, provides for a proven, cost effective, high accountability approach to management and operations of a national laboratory. A GOCO partnership shares the risk between government and the private sector. It allows each partner to perform duties for which it is uniquely suited: the government establishes mission areas and sets performance targets; and the private sector implements the missions using best business practices that ensure simultaneous excellence—excellent technology solutions delivered by the best scientists, engineers and managers; excellent operations, protecting employees, the public and the environment; and excellent community involvement, contributing to important economic needs.
"I am pleased to acknowledge the role of Chalk River employees through the CREATE (Chalk River Employees Ad hoc TaskforcE for a national laboratory) committee. I made sure that all the decision makers, particularly Prime Minister Stephen Harper, received their individual copy of the CREATE report" said Cheryl Gallant, MP.
At MP Gallant's urging, Chalk River Laboratories employees came together to form a concept for a future Chalk River National Laboratories and to obtain opinions from the over 2,700 CRL employees about that future. These volunteers organized employee consultation meetings to present the CRNL concept and to collect their suggestions. CRL employees attending the meetings voted 99% in favour to endorse the concept of a GOCO partnership.
A comprehensive program of technology transfer and commercialization implemented by the National Nuclear Laboratories would sustain, attract and/or create companies and employment in the upper Ottawa Valley. The Innovation Valley established in partnership by Oak Ridge National Laboratory, (the site of the "Manhattan project") the State of Tennessee through their state university, and the local Oak Ridge communities demonstrate the value of regional technology based economic development initiatives.