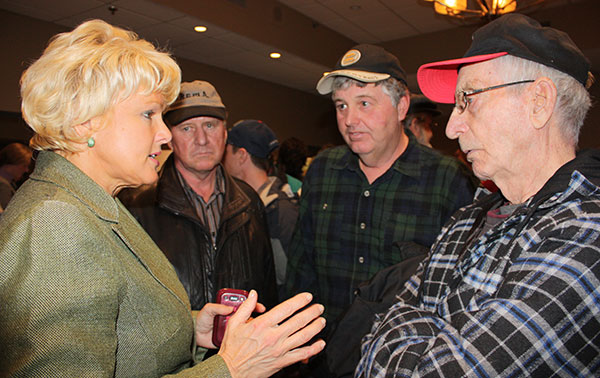 Cheryl Gallant, MP discussing the preliminary draft agreement with (L to R) Killaloe, Hagarty and Richards Township Councillor John Jeffrey, Kenny Foy, Mackie Foy.
Pembroke, Ontario – Cheryl Gallant, MP Renfrew-Nipissing-Pembroke, is pleased to acknowledge the role residents in Renfrew-Nipissing-Pembroke played in making sure they were consulted on any land claim settlement reached with the Algonquins.
"When the people of Renfrew-Nipissing-Pembroke first elected me as their Member of Parliament, it was with the understanding that they would now have a Federal voice on matters that impacted their daily lives," stated Cheryl Gallant, MP. "When local residents shared with me the importance that public consultation was absolutely necessary before any land claim agreement was signed on their behalf, I made sure our Federal Negotiator was aware of local stakeholder concerns. These public consultation meetings are a direct result of our insistence the public must be consulted."
"I welcome the statement by the Negotiators they will return to Pembroke for another session to continue the consultation process in our community."
"It is important to note that this process of consultation in the treaty-making process is unprecedented. In the past, treaties would be negotiated and signed, in secret and then presented to the public as a 'done deal'. I insisted to our Federal Minister of Aboriginal Affairs the top-down approach of the old government was not acceptable to the people of Renfrew-Nipissing-Pembroke. To his credit, and the credit of our Federal Government, I was supported by the Minister and my fellow Conservative caucus members," said MP Gallant.
"I am pleased to note that from the outset of the land claim negotiations, the Algonquins have emphasized that together we are a community. Concerns will be worked out as friendly neighbours do. From the start, the Algonquins made it clear private land was off the table in the negotiations as was Algonquin Park. I see tremendous opportunity once a treaty is signed and the uncertainty these negotiations have created in our community is lifted, to move on for the good of all the people who call the upper Ottawa Valley their home."
"There is no doubt there are some contentious issues that need to be dealt with, such as access, use and harvesting, to name three of the issues I hear the most about. I encourage constituents to continue to contact me about their concerns. At the end of the day we all have to live together. This is what this process is all about," concluded Cheryl Gallant, MP.