Farmers now have until June 14, 2013 to submit forms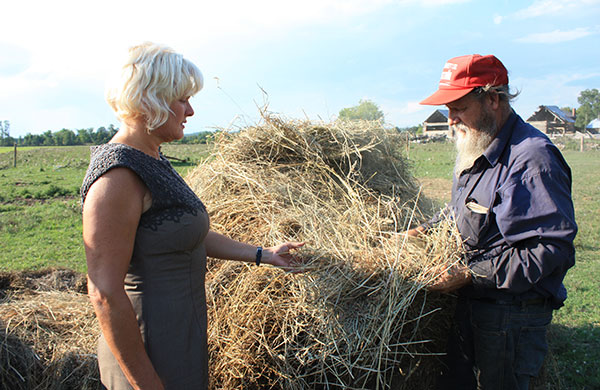 Cheryl Gallant, MP with local farmer Andy Kluke inspecting the damage to his hay crop
Cobden, Ontario – Cheryl Gallant, MP Renfrew-Nipissing-Pembroke is pleased to confirm the funding deadline to the 2012 Canada-Ontario Forage and Livestock Transportation Assistance Initiative for Ontario livestock breeders who are facing severe forage shortages due to last summer's dry weather has been extended.
"I am pleased to acknowledge the leadership from our local agricultural producers in making sure I was aware of their apprehension with this program. As soon as I became aware of their concerns, I went to work contacting the Federal and Provincial Agriculture Ministers," stated Cheryl Gallant, MP.
MP Cheryl Gallant met with Brian Hamilton Ontario Federation of Agriculture (OFA) Member Services Representative; Donna Campbell Secretary-Treasurer, Renfrew County OFA; Dave MacKay President, National Farmers Union (NFU), Lauretta Rice, Secretary NFU; John Strathoff, Ron McCoy, Renfrew County Dairy Farmers.
The deadline to transport forage under the Canada Ontario Forage Livestock Transportation Assistance Initiative has been extended by 11 weeks. Farmers will now have until June 1, 2013, to transport forage, and then until June 14, 2013, to submit their forms. The initiative was announced on Dec.14, 2012, making almost $2.4 million available to help affected livestock producers in designated drought areas of eastern and southwest Ontario purchase feed for their breeding herds over winter.
Livestock producers are eligible for:
Up to $0.14 per tonne, per kilometre to assist with the transportation of forage, or
Up to $0.075 per kilometre, per animal, to move animals to available feed
"I worked very hard to inform our Federal Government Agriculture Minister Gerry Ritz of the severity of our local situation. As I noted previously, by the province's own AgriRecovery Assessment, Renfrew County was the worst-hit drought area in 2012, with a drop in forage production as much as 50%.  Poor pasture conditions forced some producers to feed their first cut of hay in July and August, which meant they had less hay available for winter feeding," said MP Cheryl Gallant. "While the biggest share of this program, 60%, is being paid for by the Federal Government, the province, which is administering this program, still had to be convinced that farmers needed more time. I am pleased the province recognized our need and agreed to an extension of the program."