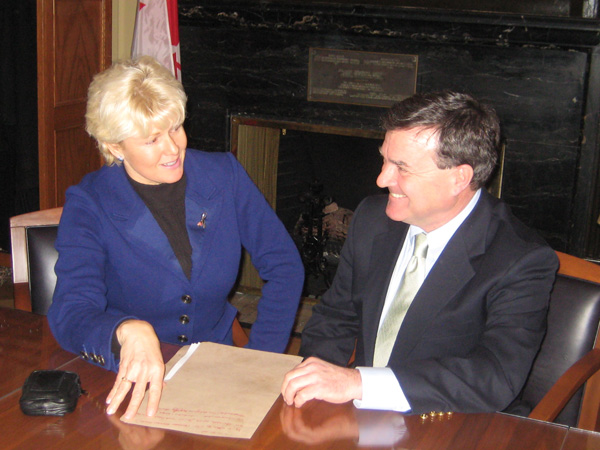 Cheryl Gallant, MP with Conservative Finance Minister Jim Flaherty
Ottawa, Ontario  – Conservative MP Cheryl Gallant welcomes the new federal budget – Economic Action Plan 2013 – and its continued focus on job creation, economic growth, and long-term prosperity as good news for Renfrew-Nipissing-Pembroke. The Plan, which will see Canada return to balanced budgets in 2015, keeps federal taxes at their lowest level in 50 years.
"While Canada has the best job creation record among all G-7 countries since the worst of the global recession with over 950,000 net new jobs, we recognize that the global economy remains very challenging," said MP Gallant. "In Economic Action Plan 2013, our Conservative government remains squarely focused on the number one priority of Canadians, with a forward-looking plan to help create jobs and grow the economy in Ontario and across Canada."
MP Gallant outlined that Economic Action Plan 2013 includes key measures to strengthen Canada's economy, including:
Ensuring a Safe and Reliable Medical Isotope Supply

: investing $144 million in AECL's (Atomic Energy of Canada Limited) Chalk River Laboratories to ensure Canada has a reliable supply of medical isotopes.

Community Improvement Fund:

announcing the Community Improvement Fund ($32.2 billion over 10 years through Gas Tax Fund payments and under the incremental GST Rebate) to help municipalities in Renfrew County and across Canada with stable and predictable funding to support community infrastructure projects.

Building a Stronger Economy in Eastern Ontario:

as part of the renewal of FedDev Ontario, the Eastern Ontario Development Program will be renewed as well. The program will continue to promote job creation and business development in rural Eastern Ontario.
Increased skills and training support, including the new $15,000 Canada Job Grant, to help more Canadians find high-quality, well-paying jobs;
Tax breaks for manufacturers who buy new machinery and equipment to stay competitive, and an extended 'hiring credit' for small businesses who create jobs;
A record $70 billion federal investment in infrastructure across Canada, including roads, bridges, subways, rail lines, and ports;
Major investments in research and technology;
New tax relief for Canadians who give to charity, adopt a child, or rely on homecare services;
Elimination of 'import tax' tariffs on everyday items Canadian families buy, like baby clothing, sports gear, and exercise equipment;
Economic Action Plan 2013 also confirmed the Conservative government's continued all-time record support for hospitals, schools, and other important health and social services in Ontario.
"Unlike the 1990s, we will not slash transfers to healthcare and education services that hard-working Canadians families depend on. And nor will we follow the NDP's plan for risky tax schemes, like a $21 billion carbon tax, that will raise the price on everything Canadians buy. Our Conservative government is protecting the services that Ontario families depend on," concluded Cheryl Gallant, MP.