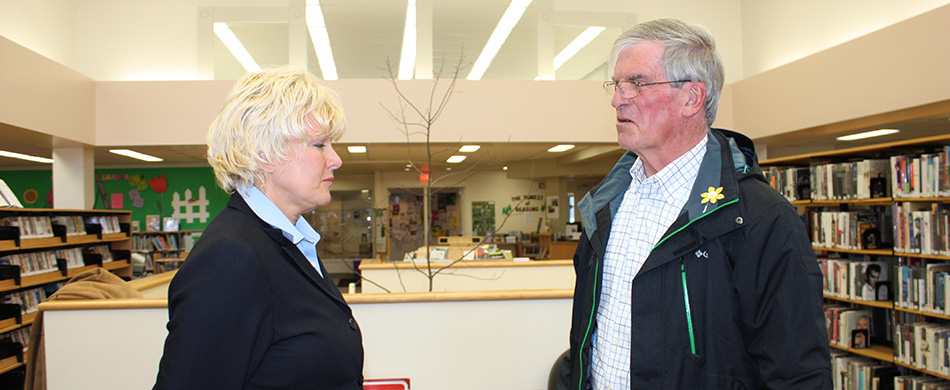 Cheryl Gallant with Terry Gibeau, April 4th, 2013
Ottawa, Ontario – Cheryl Gallant, MP for Renfrew—Nipissing—Pembroke, has introduced a new private members motion into the House of Commons calling for a 10 year moratorium on the removal of Canadian National Railway (CN) rail lines in Eastern Ontario and Western Quebec.
"I have introduced this motion at the request of constituent who may have a buyer for the rail lines throughout Eastern Ontario and Western Quebec," said MP Gallant. "Transport Pontiac-Renfrew (TPR), headed by Terry Gibeau, has been asking CN for some time to consider community bids for their rail lines, but to no success.  These rail lines are too important to future economic activity in Eastern and Northern Ontario to be removed."
CN announced its plans to remove rail lines throughout Ontario in 2008.  According to the Canada Transportation Act, 1996, if no rail line offers to buy the lines, CN is required to give governments, transit authorities, and corporations partnered with governments a chance to buy the rail lines for their own use.  At that time, no municipality was able to put forward an offer to CN due to the fiscal limitation imposed by the 2008 global recession.   TPR was formed in 2009 with the hopes of allying with Governments throughout Renfrew County and Western Quebec to buy the rail lines for passenger rail and shipping use.  Despite repeated requests, CN has been unwilling to re-open the bidding process for their rails lines since the original 2009 deadline passed.  These lines were originally built with public funds in the late 19th and early 20th century, so every opportunity to find a buyer should be exhausted before they are removed.
"M-443 — April 23, 2013 — Mrs. Gallant (Renfrew—Nipissing—Pembroke) — That, in the opinion of the House, the Government should impose a 10 year moratorium on the removal of the Canadian National Railway rail lines between North Bay and Montreal, recognizing that taxpayers' dollars helped to build the historic transportation system, and that with a recovering forestry industry and the development of the Ring of Fire, a long haul transportation system may be vital."
Download the Petition to Save the Rail Lines
CN Rail Petition to Parliament