Pembroke, Ontario – Cheryl Gallant, M.P. for Renfrew—Nipissing—Pembroke, took the opportunity at this year's highly successful Options 2013 to consult with employers and educators on the Canada Job Grant.
Options 2013 was made possible by $33,000 of federal funding through the Eastern Ontario Development Program (EODP).  Over 2000 Renfrew County students attended a job fair, where skills competitions and employment opportunities were showcased.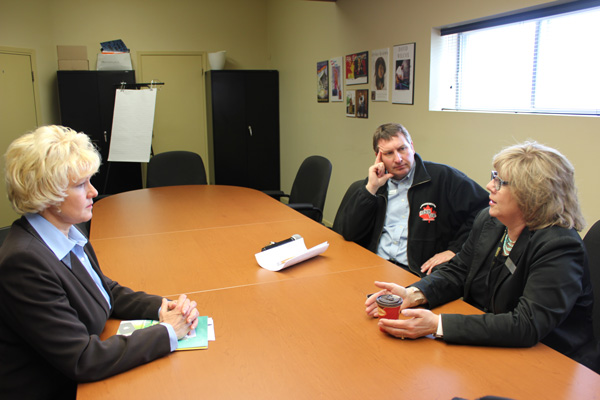 Gallant met with Karen Davies, Dean of Algonquin College, and Jamie Bramburger, Manager of Community & Student Affairs, during Options 2013 to discuss the new Canada Job Grant outlined in Economic Action Plan 2013. The initiative will create jobs by transforming the way Canadians receive skills training.
"The discussions provided me with the views from job creators on this innovative new approach to skills training," said MP Gallant. "The Canada Job Grant will take skills-training choices out of the hands of government and put them where they belong: in the hands of employers with unfilled jobs and Canadians who want to work."
The Canada Job Grant will allow Canadians, who have an offer for a new job or a better job, to qualify for up to $15,000 to learn new skills to accept the new or better job.  The contributions for the Canada Job Grant will be a joint three-way funding program, with federal contributions being matched by the provinces and the potential employer. The Canada Job Grant is expected to assist up to 130 000 Canadians each year to have better access to the training they need to find work or improve their skills.
Economic Action Plan 2013 proposes new measures to connect Canadians with available jobs and equip them with the skills and training they need. These include the Canada Job Grant, creating opportunities for apprentices and providing support to under-represented groups, including persons with disabilities and youth.