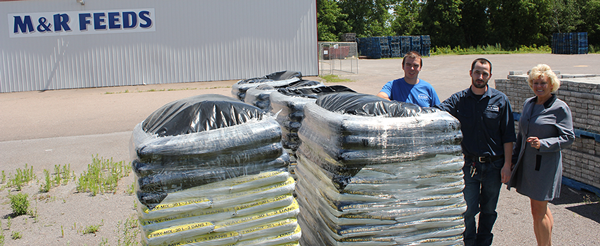 Pembroke, Ontario – Cheryl Gallant, M.P. is pleased to announce that M & R Feeds in Pembroke has qualified for Eastern Ontario Development Program Funding.
"M & R Feeds provides top quality products and services to farmers and many other customers in the Pembroke and Cobden Areas. This funding will focus on Agri-Business Skills Training for employees. "It is a mentoring program with the purpose of keeping young people engaged and involved in agriculture. Skills Training takes place in Southern Ontario areas of Guelph, London and Cambridge. Agricultural employment today has many opportunities, particularly in the biotech fields. M & R Feeds is a well established employer, ensuring this funding is well placed in the community," stated Cheryl Gallant, M.P.
The Eastern Ontario Development Program (EODP) is a Government of Canada initiative which promotes economic development in eastern Ontario, leading to a diversified and competitive regional economy with successful businesses and prosperous communities. It has been a catalyst in many communities by encouraging new projects and community plans, mobilizing community stakeholders and helping to form partnerships.
"This year, a number of area businesses and organizations will benefit from the Eastern Ontario Development Fund. It is encouraging to see Renfrew County benefiting from this program. I look forward to visiting recipients to see how this funding is helping to achieve their business goals," concluded Gallant.