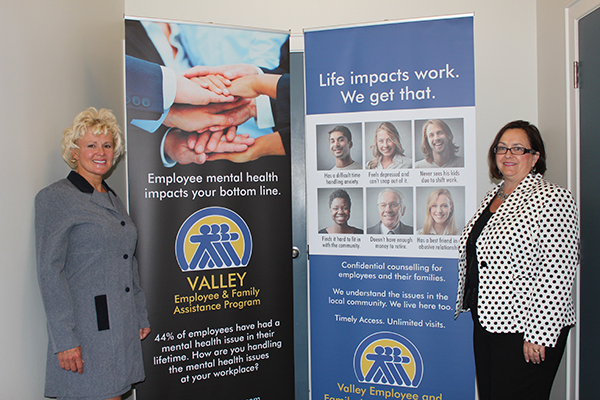 Pembroke, Ontario – Cheryl Gallant, Member of Parliament for Renfrew Nipissing Pembroke was pleased to announce that Valley Employee and Family Assistance Program (EFAP) is a successful applicant for the 2013 Eastern Ontario Development Program.
Cheryl met with Shelley Termarsch, Valley EFAP's Administrator, to personally deliver the good news.
"Valley Employee and Family Assistance Program has been in operation for 20 years. It is an employee benefit program that helps employers create a healthy workplace, and assist employees, their dependents and retirees, who seek private support in dealing with life issues," stated Cheryl Gallant, M.P.
Valley EFAP received $4,706.25 of Eastern Ontario Development Program Funding to design a Strategic Marketing Plan. Measures are underway to increase public awareness of the service, and its functions. Valley EFAP has specialized therapists available to meet with individuals for counselling through challenging circumstances.
"I am pleased to see Valley Employee and Family Assistance Program benefit from EODP Funding. This is a not-for-profit organization, reaching out to assist people with confidential, professional assessments, counselling and referrals. I am looking forward to its success in making our community an even better place to live and grow", concluded Gallant.