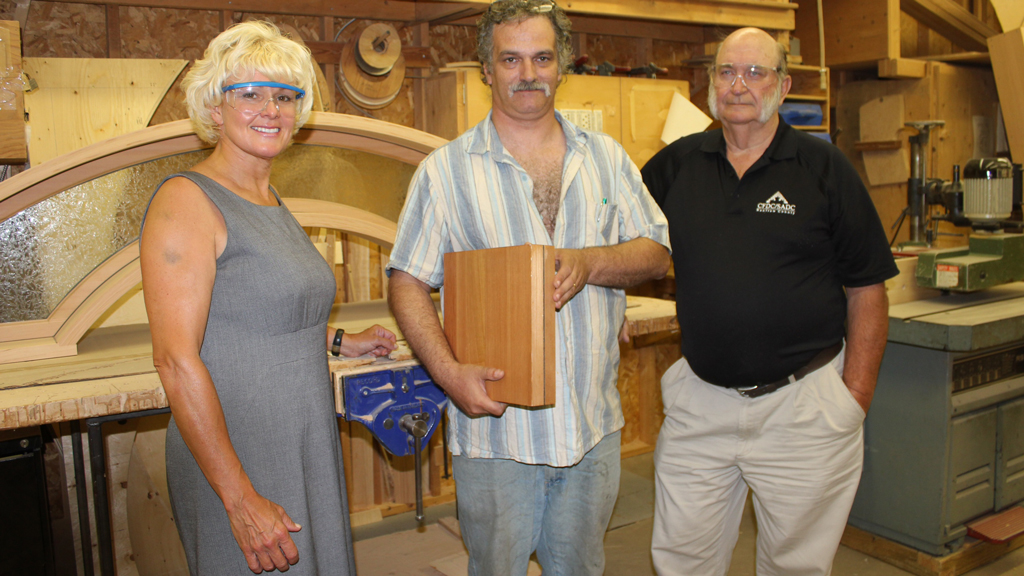 Barry's Bay, Ontario – Cheryl Gallant, M.P. for Renfrew Nipissing Pembroke was pleased to meet with Mike Snider of Madawaska Doors to announce federal funding of up to $92,140.84 from the Eastern Ontario Development Program. "The funding will be directed toward Youth Internships to support marketing and production of a recently patented innovative new ultra-thin environmentally friendly insulation system", stated Cheryl Gallant, M.P.
The new thermal stop system, known as Insil-Stop was developed by Madawaska Doors to bring an affordable, unique technology to the door manufacturing industry, thereby increasing the "R" (insulation) value incrementally.
"I am delighted that Madawaska Doors successfully qualified for federal funding. Mike Snider is truly a Canadian innovator. With unique niche markets throughout the world, Madawaska Doors is continually seeking further growth and new challenges" said Gallant.
"Madawaska Doors' workforce is over 35 dedicated employees, who are expert craftsmen in their fields. On a recent tour of the facility, the dedication and pride to produce a quality product is highly evident", stated Gallant.
The Eastern Ontario Development Program is a Government of Canada initiative which promotes economic development in Eastern Ontario, leading to a diversified and competitive regional economy.
"Successful businesses such as Madawaska Doors in Barry's Bay are worthy recipients of Eastern Ontario Development Program. Having been in operation since for over 40 years, Mike Snider and staff know their trade" expressed Cheryl.