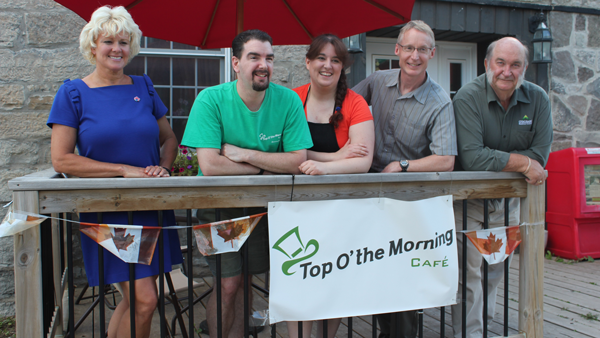 Douglas, Ontario – Cheryl Gallant, M.P. for Renfrew—Nipissing—Pembroke was pleased to visit Brian and Angie McNish of Top O' the Morning Cafe to announce federal funding in the amount of $1,750.00 from the Federal Eastern Ontario Development Program. "The money will establish the restaurant's internet and social media presence by creating a website designed specifically to showcase the menu and draw travellers to the business via the smartphone applications now used by consumers to locate dining opportunities" stated Cheryl Gallant, M.P.
"I am delighted that Top O' the Morning Cafe has qualified for Eastern Ontario Development Program funding. This café, while situated in a historic building on Highway 60 in Douglas, will have the leading edge marketing tools to connect with the consumers of this era. The warm hospitality is typical of this friendly community.
"More people stopping in for a bite to eat or an ice cream treat on the way to Algonquin Park will provide greater exposure to other businesses in the community as well," said Gallant. "I wish Brian and Angie the best in their future endeavours."
The Eastern Ontario Development is a Government of Canada initiative which promotes economic development in Eastern Ontario, leading to a diversified and competitive regional economy with successful businesses such as Top O' the Morning Café in Douglas," said Gallant.