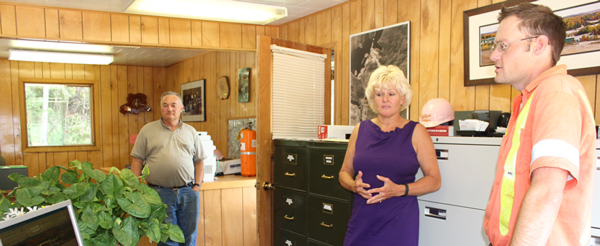 Whitney, Ontario – Cheryl Gallant, M.P. for Renfrew—Nipissing—Pembroke was pleased to visit John & Jamie McRae of McRae Mills Lumber to announce federal funding in the amount of $850.00 from the Federal Eastern Ontario Development Program. "The money will update and enhance their website, promoting swifter contact with McRae Mills Lumber, and expand business opportunities around the world," stated Cheryl Gallant, M.P.
"I am delighted that McRae Mills Lumber has qualified for Eastern Ontario Development Program funding," said Gallant. "There is a growing demand for hardwood lumber internationally, particularly in Asia. Advancing deeper into the digital economy, McRae Mills Lumber will be able to penetrate new markets, creating jobs here in Whitney."
The Eastern Ontario Development is a Government of Canada initiative which promotes economic development in Eastern Ontario, leading to a diversified and competitive regional economy with successful businesses such as McRae Mills Lumber in Whitney," said Gallant.