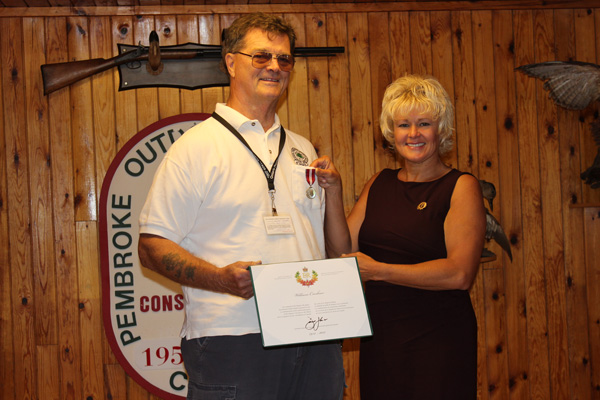 Stonecliffe, Ontario – Cheryl Gallant, Member of Parliament for Renfrew—Nipissing—Pembroke, was honoured to present a Queen Elizabeth II Diamond Jubilee Medal to Bill Croshaw.
"Bill Croshaw is the former Reeve of Head, Clara & Maria Township, representing the most northerly township in Renfrew County. He first served on Township Council in 1996, and was elected Reeve in 1999. Bill served as Chair of the Health Committee that oversaw Bonnechere Manor, Miramichi Lodge and the Emergency Services Department. Bill also was a member of the County's Finance & Administration Committee," stated MP Gallant.
"He is a veteran, having served in the Royal Canadian Navy, and is a retired Ontario Provincial Police (OPP) Sergeant, whose 31-year career saw him posted in Pembroke, Rolphton and the Village of Upsala, which is north of Thunder Bay."
"Bill is one of the biggest promoters of the many camping and tourist opportunities in Head, Clara & Maria and encourages everyone to visit the area. He is a long-time member of the Pembroke Outdoor Sportsman's Club. Bill is an avid fisherman and hunter, and a certified Canadian Firearms Safety Course Instructor. Bill now is a volunteer for Miramichi Lodge's bingo fundraiser at the newly formed Boardwalk Building at the west end of Pembroke. Bill and his lovely wife Louise presently reside in Stonecliffe."
"Over his career and through his activities today, Bill has done much for his country, his community, and for the people of Renfrew—Nipissing—Pembroke. It is a pleasure to have Bill Croshaw honoured with a Diamond Jubilee Medal," stated Cheryl Gallant, MP.