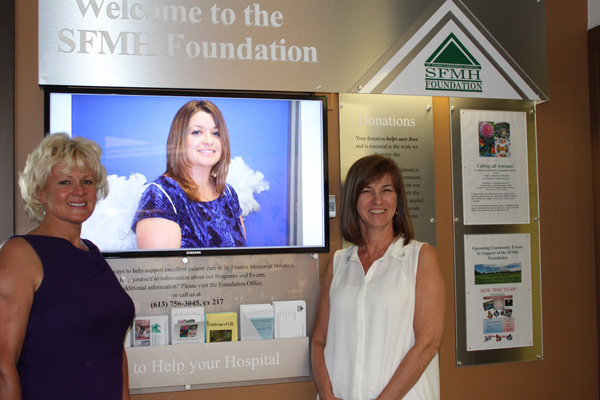 Barry's Bay, Ontario – Cheryl Gallant, M.P. for Renfrew Nipissing Pembroke was pleased to meet with Toni Lavigne-Conway of the St. Francis Memorial Hospital Foundation to see the results federal funding of up to $7,815 from the Eastern Ontario Development Program. "The funding was directed toward using innovative information and communication technologies to develop increased community support", stated Cheryl Gallant, M.P.
The enhanced communications technology that has been created through the EODP funding has resulted in significant donations from the community, which were put towards the new 'Family Helping Family' campaign at St. Francis.
"Recent innovations in communications technology have given rise to increased medical improvements and technologies. St. Francis' harnessing of this innovations has helped bring in enough donations for new two X-ray machines" said Gallant.
"The Hospital is huge employer in Barry's Bay, and the success of St. Francis' new communications technologies will help to save lives and help the local economy", stated Gallant.
The Eastern Ontario Development Program is a Government of Canada initiative which promotes economic development in Eastern Ontario, leading to a diversified and competitive regional economy.