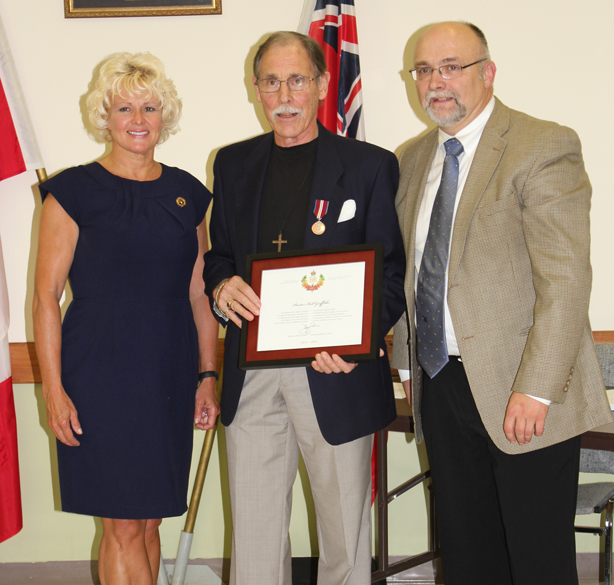 Calabogie, Ontario – Cheryl Gallant, MP for Renfrew—Nipissing—Pembroke, was pleased to present Reverend William Griffiths of Calabogie with a Queen Elizabeth II Diamond Jubilee Medal.
Bill Griffiths and his wife Diane have resided in Calabogie for nearly 30 years, and have been active members of their community ever since arriving here in 1988. Shortly after retiring in 1997, Bill and Diane began to look after children for Renfrew County Family and Children's Services, and turned their home into the Emergency Receiving Home for the agency. Over the next ten years, no less than 80 children from all over Renfrew County were provide with a safe and nurturing place to call home.
Bill has also provided housing assistance to older residents of Calabogie as well, in his position as President of the Greater Madawaska Seniors' Housing Corporation, which provides affordable housing to seniors.
Shortly after moving to Calabogie, Bill began studying for his Bachelor of Theology at Saint Paul's University in Ottawa, which was awarded to him in 1993. He followed this with a Masters of Theology in Scripture Study in 1998 and a Masters of Pastoral Theology in 2001.
He put this training to work in 1997, when he joined the Bible study group in Calabogie, and in 1999, with the help of some Divine Intervention, convinced the group to take the ministry out of the house and into the old Lions Club building on Mill Street. With this move, the Calabogie Bible Fellowship was formed, and soon joined the Congregational Christian Churches in Canada in 2000. In May 2003, Pastor Bill was ordained by the local congregation, and give the title we know him by today, Reverend Bill Griffiths.
"Reverend Bill Griffiths is a great community leader in Calabogie, opening both his home and his heart to residents here for the over twenty years, and I am honoured to present him with a Diamond Jubilee Medal," stated MP Gallant.