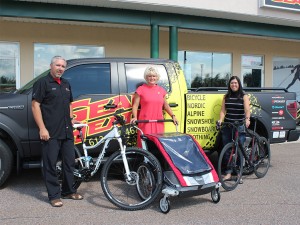 Petawawa, Ontario – Cheryl Gallant, M.P. for Renfrew—Nipissing—Pembroke, was pleased to meet with Damien and Tammy McCarthy of Gearheads in Petawawa to see how the federal funds of $3,825.25 from the Eastern Ontario Development Program (EODP) were used. The grant was directed towards creating a strategic business plan, and for technical training specific to the brands of bicycles sold and serviced by staff at the store.
"In addition to the development of a strategic plan, one of the marketing measures taken has been the application of a truck wrap. We are starting to see a multiplier effect within the EODP, as the truck wrap was done by SpeedPro Signs, who has also received funding through the program for internships in graphic design," noted MP Gallant. "I would like to join Damien and Tammy in thanking the Renfrew County Community Futures Development Corporation for helping Gearheads, and other small businesses across Renfrew County, to train them employees, and to grow and become more successful."
Damien and Tammy McCarthy began Gearheads as the sole operators, and have grown the company to 11 employees. While offering a large variety of bicycles and full bicycle service and maintenance, Gearheads also offers snowshoes, snowboards, skis, strollers and trailers.
The Eastern Ontario Development Program is a Government of Canada initiative which promotes economic development in Eastern Ontario, leading to a diversified and competitive regional economy. Cheryl extends her gratitude to the board members of the Renfrew County Community Futures Corporation for their support to our business communities.