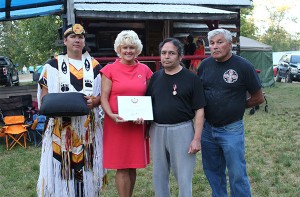 Golden Lake, Ontario – Cheryl Gallant, M.P. for Renfrew—Nipissing—Pembroke, was pleased to present Tony Amikons of Pikwakanagan with a Queen Elizabeth II Diamond Jubilee Medal.
Tony Amikons was born and raised in the Algonquin Community of Pikwakanagan, where he still resides today. At age 21, Tony attended George Brown College in Toronto, and graduated with a certificate in Commercial Arts.
Tony's passion for art began at the age of 6, when he began to develop his own unique style of painting, and that passion continues to this day. His professional career began in 1984, with artworks influenced by his culture and surroundings in Renfrew County.
Some of his accomplishments include the murals he designed and painted at St. James Elementary School and Eganville District Public School. The work he is best known for is his creation of the Pikwakanagan community logo. This powerful symbol represents community pride and unifies all Algonquin members.
"Tony remains an exemplary artist, and we look forward to seeing much more of his professional works. It is my pleasure to present a Diamond Jubilee Medal to Tony Amikons," stated MP Gallant.