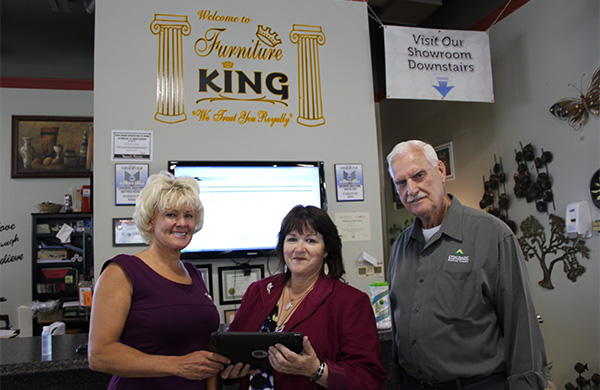 Petawawa, Ontario – Cheryl Gallant, M.P. for Renfrew—Nipissing—Pembroke, was pleased to meet with Eileen Malette of Furniture King in Petawawa to see the results of $3,000 in federal funding from the Eastern Ontario Development Program (EODP). The money went towards electronic marketing, sales development, and upgraded building advertising.
"I am pleased to see the upgrades made here, including the digitized inventory and display systems," stated MP Gallant. "The EODP is having a multiplier effect on job creation in our communities, as the new outdoor advertising was designed and created by SpeedPro Signs, who had also received funding through the program for internships in graphic design."
Furniture King used its EODP funding to purchase a point of sale computer program which automatically updates the inventory levels following transactions. Customers are now able to view images of furniture they are interested in on wall mounted monitors or on a tablet, if the item is not on display. Upgrades were made to the lower level showroom to accommodate the addition of large appliances now for sale at the business.
The Eastern Ontario Development Program is a Government of Canada initiative which promotes economic development in Eastern Ontario, leading to a diversified and competitive regional economy. Cheryl extends her gratitude to the board members of the Renfrew County Community Futures Corporation, including board member Bob Pilot who visited Furniture King with Cheryl, for their support to our business communities.