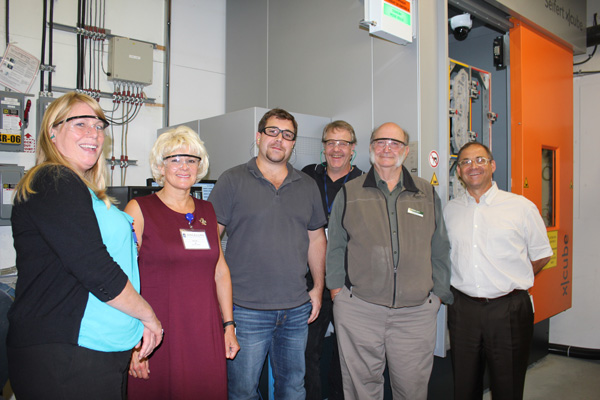 Haley Station, Ontario – Cheryl Gallant, M.P. for Renfrew—Nipissing—Pembroke, was pleased to meet with Jim Lemenchick during a visit to Haley Industries just outside Cobden, to see the results of $29,782.86 in funding through the Federal Government's Eastern Ontario Development Program (EODP). The grant was applied towards technical training to keep employees skills' current and competitive.
"It was very interesting to tour the plant with Jim Lemenchick and Tara Stevenson to see the recent advancements at Haley Industries," said MP Gallant. "I would like join Jim and Tara in thanking Darrell Ryan and the Renfrew County Community Futures for accepting Haley Industries' proposal. Leading edge technology has enabled Haley Industries to provide even higher quality services, fostering company growth and contributing to local economic prosperity."
Haley Industries is a Canadian company with over 60 years of experience in the aerospace field, and is a major employer in the Upper Ottawa Valley. At the facility in Haley Station, lightweight metal castings for use in engines are manufactured and supplied to civilian and military aircraft companies worldwide.
Administered through the Renfrew County Community Futures Corporation, the Eastern Ontario Development Program is a Government of Canada initiative, which promotes economic development in Eastern Ontario, leading to a diversified and competitive regional economy.