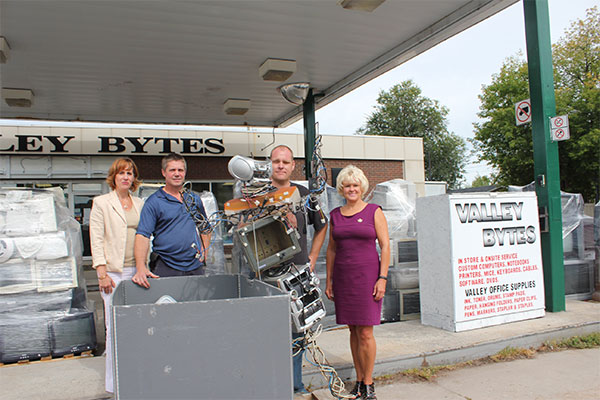 Renfrew, Ontario – Cheryl Gallant, M.P. for Renfrew—Nipissing—Pembroke, was pleased to meet with Connie Griffin, President, and Dwayne Johnson, Treasurer of Valley Bytes in Renfrew to announce the awarding of $3,414.97 in federal funding through the Eastern Ontario Development Program (EODP). The money has been invested to create a new electronics recycling service.
"I would like to join Connie and Dwayne in thanking the Renfrew County Community Development Corporation for accepting their proposal," stated MP Gallant. "I wish Connie and Dwayne further growth and prosperity in their pursuit of the goal – to become the top destination in Renfrew for electronic waste recycling through their 'Valley E Cycling' plan."
Thanks to their partnership with Ontario Electronic Stewardship (OES), electronic materials can be dropped off anytime at Valley Bytes for recycling.
The Eastern Ontario Development Program is a Government of Canada initiative which promotes economic development in Eastern Ontario, leading to a diversified and competitive regional economy. Cheryl extends her gratitude to the board members of the Renfrew County Community Futures Corporation for their support of our business communities.