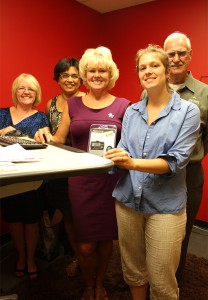 Deep River, Ontario – Cheryl Gallant, M.P. for Renfrew—Nipissing—Pembroke, was pleased to visit StepsCount in Deep River to see how $48,201.87 through the Eastern Ontario Development Program (EODP) was used. The grant was directed towards creating a youth internship position, the design of marketing tools, and the planning of an expansion strategy.
"It was a pleasure to meet the StepsCount team, including the intern who is now a full employee," noted MP Gallant. "The initiatives will enable StepsCount to offer its products in new markets throughout North America and around the world, providing economic growth and success here in Deep River."
StepsCount sells teaching, biofeedback and ergonomic aids for healthy lifestyles, and is Canada's leading pedometer retailer. Its Piezo StepX pedometer and stand/sit desk are the two flagship health promotion products.
The Eastern Ontario Development Program is a Government of Canada initiative which promotes economic development in Eastern Ontario, leading to a diversified and competitive regional economy. Cheryl extends her gratitude to the board members of the Renfrew County Community Futures Corporation for their support of our business communities.