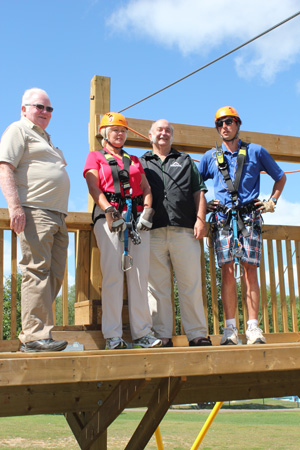 Cobden, Ontario – Cheryl Gallant, M.P. for Renfrew—Nipissing—Pembroke, was pleased to meet with Jerrold Paxton, Fred Glover and Grant Hackner at Logos Land in Cobden. An approved application for $10,855 from the Federally Funded Eastern Ontario Development Program (EODP) was applied towards engineering and building of a new zip-line attraction at Logos Land.
"It was exciting to experience the new zip lines here at Logos Land," said an enthusiastic MP Gallant. "I would like to thank Chairman Darrell Ryan and the rest of the volunteer board of the Renfrew Community Futures Corporation for approving Logos Land's application, which created a fun ride to boost tourism in Cobden."
In total six zip lines have been constructed in three parallel courses measuring 630 feet, 1,115 feet and 1,339 feet. They have been in operation since June 2013, and have thrilled over 5,500 riders since the opening, well in excess of the numbers anticipated.
The Eastern Ontario Development Program is a Government of Canada initiative which promotes economic development in Eastern Ontario, leading to a diversified and competitive regional economy. Cheryl extends her gratitude to the board members of the Renfrew County Community Futures Corporation for their support to our business communities.