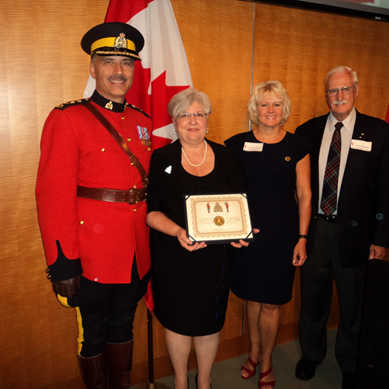 Ottawa, Ontario – Cheryl Gallant, M.P. for Renfrew—Nipissing—Pembroke, was pleased to join Robert and Lois Pilot at the Royal Canadian Mounted Police's (RCMP) Headquarters in Ottawa to witness Lois Pilot being officially recognized as an 'Unpaid Second Man'. Honourees were presented with a Commissioners certificate and broaches.
"It was my honour to be present at the celebration of these modest, yet profoundly devoted women," said MP Gallant. "In remote RCMP detachments, which were often only staffed by one or two officers, the women assumed their husbands' responsibilities when they were on assignment. These ladies helped to protect and support small communities across Canada, and worked hard for years to rightfully earn for the honour they received today."
Lois Pilot (nee Alsford) joined her new husband in the Pond Inlet, Nunavut Detachment in 1963, the most northerly detachment in the Eastern Arctic. Pond Inlet is a small community on northern Baffin Island, and was completely isolated from the outside world save for aircraft visiting once or twice a year and supply ships arriving in the summer months. Over the next three years, Lois became her husband's second man at the detachment, manning the detachment while Bob was away on investigations, providing medical assistance to the local population, meeting and interacting with the local population, and watching and caring for prisoners.
The 'Unpaid Second Men' honour is awarded to wives, partners and widows of long-time RCMP members who served in remote locations. These women took on many detachment responsibilities such as answering phones, taking complaints, searching and escorting female prisoners, providing prisoners meals and numerous other duties. They also opened their homes to RCMP members on extended patrols, visiting senior officers, judges, doctors and government officials. All of this was done in remote conditions under austere conditions, in many cases while raising families simultaneously.
The RCMP created the 'Unpaid Second Man' honour to recognize the invaluable service women gave in support of their husbands, the RCMP, and their community. Lois Pilot was one of 18 women of the Ottawa Division who were honoured at the ceremony.