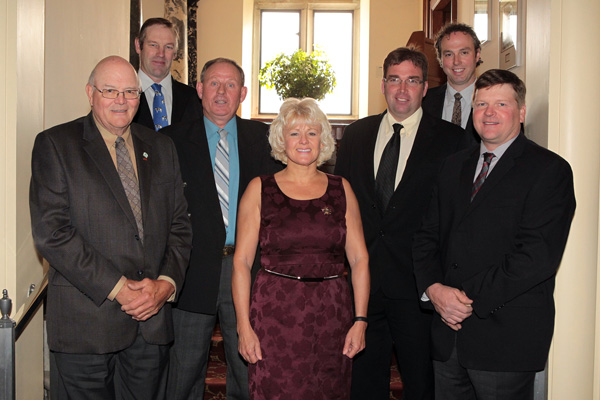 Ottawa, Ontario – Cheryl Gallant, M.P. for Renfrew—Nipissing—Pembroke, hosted a special meeting with representatives from Renfrew County Agricultural Organizations on Parliament Hill to outline the opportunities arising from the recently signed Canada-European Union Comprehensive Economic and Trade Agreement (CETA), and listen to concerns.
"It was very helpful to have Dave McGonegal, of the Renfrew County Cattleman's Association, Tony Straathof of the National Farmers Union, Bob Johnston of the Renfrew County Federation of Agriculture, Bruce Hudson of the Arnprior Federation of Agriculture, Don Russell of the Dairy Farmers of Renfrew County, and Tim Egan of the Pork Farmers of Renfrew County, give insight on provisions necessary to place local producers to benefit from CETA," said MP Gallant.
Livestock Farmers in Renfrew County have at least two years to prepare for the access to 500 million new customers. For pork producers, the duty-free limit for importation into the EU is increased over 1,300%, from 6,000 tons to 80,000 tons of duty-free pork products. The duty-free limit for beef products increases over 300%, from 15,000 tons to 50,000 tons, as well as an extra 15,000 duty-free limit for high-quality beef products.
Our Government has supported the three pillars of supply management system for the dairy and poultry sectors in this trade agreement. The Federal Government will compensate supply managed producers if actual losses as a consequence of CETA are incurred.
CETA is by far, Canada's most ambitious trade initiative, broader and deeper in scope than the historic North American Free Trade Agreement (NAFTA).
"This agreement with the European Union is a big win for businesses and families across the Ottawa Valley," confirmed MP Gallant. "In the months to come I look forward to working with our agricultural community to position local farmers to seize the opportunities arising from CETA."
Enjoyed meeting with #OttawaValley farmers on Parliament Hill to discuss the opportunities arising from #CETA http://t.co/1PtUh1Dfiz

— Cheryl Gallant (@cherylgallant) October 24, 2013
Learn More about the Canada-European Union Comprehensive Economic and Trade Agreement