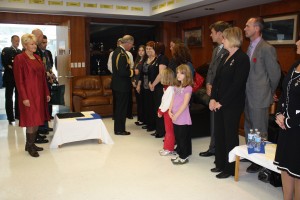 Ottawa, Ontario – Cheryl Gallant, M.P. for Renfrew—Nipissing—Pembroke, stood today in the House of Commons to honour the 41 men and women from CFB Petawawa who lost their lives in the service of our country in Afghanistan.
"As November 11th approaches, it is important remember those who gave the ultimate sacrifice for our country," said MP Gallant. "It is the role of the Government to provide the military with the proper equipment that delivered the best protection to them while they do their jobs, wherever we need them to be. Unlike previous Governments, we are not playing politics with military procurement."
Statements by Members
Thursday, October 31st, 2013
Mrs. Cheryl Gallant (CPC, Renfrew—Nipissing—Pembroke):
"As November 11th approaches, I rise to remember 41 brave men and women from CFB Petawawa, who made the supreme personal sacrifice for their country as members of the Mission to Afghanistan.
Lest we forget, it was the decision of the previous government to play politics with military procurement. The short sighted cancellation of the Sea King helicopter replacement contract led to so many preventable casualties.
By forcing our soldiers onto roads mined with bombs and improvised explosive devices, precious Canadian blood was spilt.
Only after our Conservative Government provided the right equipment, heavy lift Chinook helicopters, did casualty levels drop.
Lest we forget, the Opposition continues to play politics with military procurement. Come next election, WE WILL REMEMBER!"