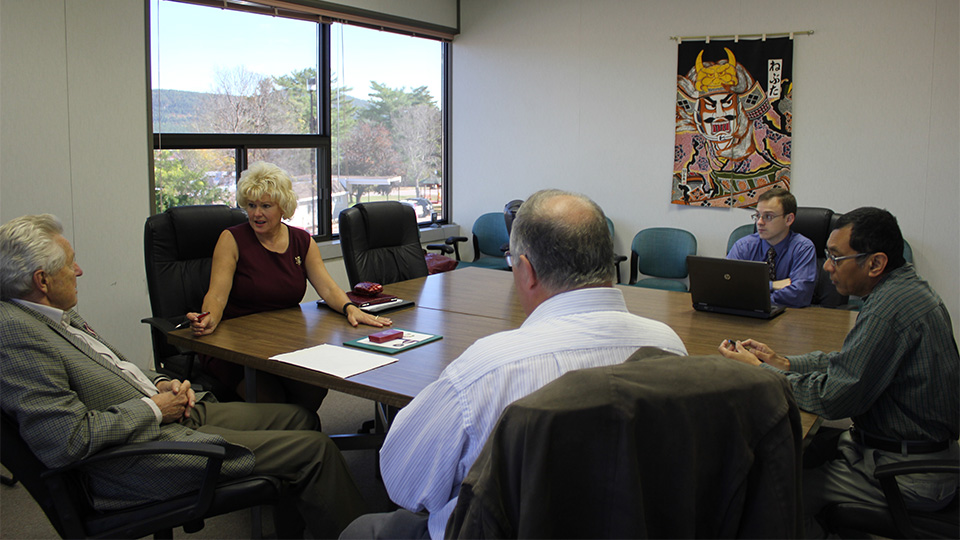 Chalk River, Ontario – MP Cheryl Gallant, (Renfrew-Nipissing-Pembroke) recently met with members of "CREATE" (Chalk River Employees Ad hoc TaskforcE for a National Laboratory) to encourage participation in Canada's Plan for the long-term management of used nuclear fuel.
"This is an excellent opportunity to use Canadian expertise to solve a national and international concern," stated Cheryl Gallant, MP. "It is in Canada's and the world's best interest to come up with the best science-based solution possible."
CREATE is the committee MP Gallant struck at a Town Hall meeting of unionized AECL employees after the first phase of the restructuring of AECL was announced. The CREATE team worked together for several months, producing a model with Chalk River National Laboratories being managed by the private sector, partnering with other levels of government, universities, and industry. CREATE testified at the Standing Committee on Natural Resources, and presented to the Minister of Finance.
The Conservative government of Prime Minister Stephen Harper accepted the recommendations in the CREATE Report. A number of companies are vying to win the contract to run the complex of leading edge laboratories at Chalk River.
The Nuclear Management Waste Organization (NMWO) announced its plans for a deep geological repository in which to store spent fuel rods, in May 2010. During a meeting with NWMO representatives last month, MP Gallant was told such a project was expected to break ground by 2023, with an overall estimated cost of $22 Billion, to be born by the power generating companies – in other words, Hydro One customers.
"I am concerned over the rising cost of electricity," remarked MP Cheryl Gallant. "I am also concerned the solution being put forward, deep geological repositories, is not the best solution. The women and men who work at the Chalk River Laboratories of AECL are the science experts. They bring over 50 years of experience to the table in waste management. Let us have a proposal from AECL."
No science-based or security reasons justify the added billions of dollars in expense to build an underground city for housing spent fuel rods. It is meant only to put out-of-sight, out-of-mind.
Ontario customers are already on the hook to the tune of over a billion dollars for a gas plant that will never be built. Starting this November 1st, the price for the cheapest time-of-day electricity rises to above what the most expensive time-of-day cost was on October 31st. Seniors in rural areas will have difficulty affording to stay in their homes, because rural distribution costs for delivery is even higher. What is being proposed today will only add more to household electricity bills.
After a discussion on the logic and savings of having above ground storage for spent fuel, Members of CREATE will be investigating the opportunities to have AECL technology used.
Encouraging the Local "CREATE" Committee in a New Task #nuclear #innovationvalleynorth http://t.co/VRKyT5hMXL

— Cheryl Gallant (@cherylgallant) November 7, 2013