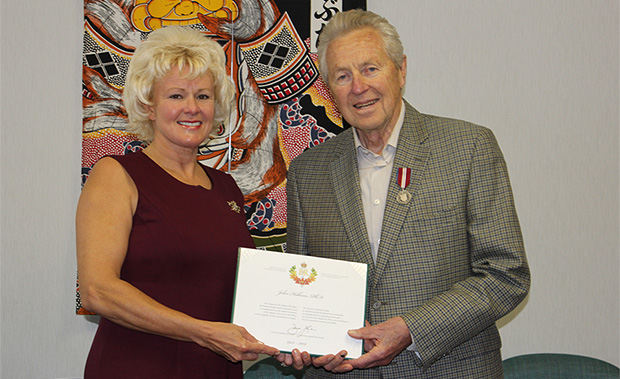 Deep River, Ontario – Cheryl Gallant, MP for Renfrew—Nipissing—Pembroke, was pleased to present Dr. John Hilborn of Deep River with a Queen Elizabeth II Diamond Jubilee Medal.
Dr. Hilborn began a career in the nuclear industry in 1949 when he joined the Port Radium uranium mine in the Northwest Territories. Following the completion of a PhD program in Nuclear Physics, Dr. Hilborn sought out a position with AECL in Deep River. During his 35 year tenure with AECL, Dr. Hilborn was instrumental in the development and startup of the NRU (National Research Universal), NPD (Nuclear Power Demonstration), and WR-1 (Whiteshell No. 1) reactors.
Dr. Hilborn's most significant contribution was the development of the SLOWPOKE reactor concept. The ideas pioneered by the Dr. Hilborn resulted in the creation of the low power SLOWPOKE research reactor, SLOWPOKE demonstration reactor, and SLOWPOKE energy system, now used in universities throughout Canada.
Later in his career, Dr. Hilborn demonstrated the feasibility of the self-powered neutron detector for in core reactor monitoring. The concepts pioneered in Dr. Hilborn's designs continue to affect the development of modern in core monitoring devices.
Dr. Hillborn has in the past been recognized by his colleagues in the nuclear industry, receiving the Eadie Medal from the Royal Society of Canada and W.B. Lewis medal from the Canadian Nuclear Association in 1974. He continues to advocate research and development in the Ottawa Valley through his work on the CREATE committee.
"Dr. John Hillborn's ideas helped Canada become a world leader in nuclear research. I am delighted to recognize his contributions to our community and our nation by presenting him with a Diamond Jubilee Medal," stated MP Gallant.
Dr. Hillborn's ideas helped Canada become a world leader in #nuclear research and deserving of a #DiamondJubileeMedal http://t.co/zPxt4Opv14

— Cheryl Gallant (@cherylgallant) November 15, 2013