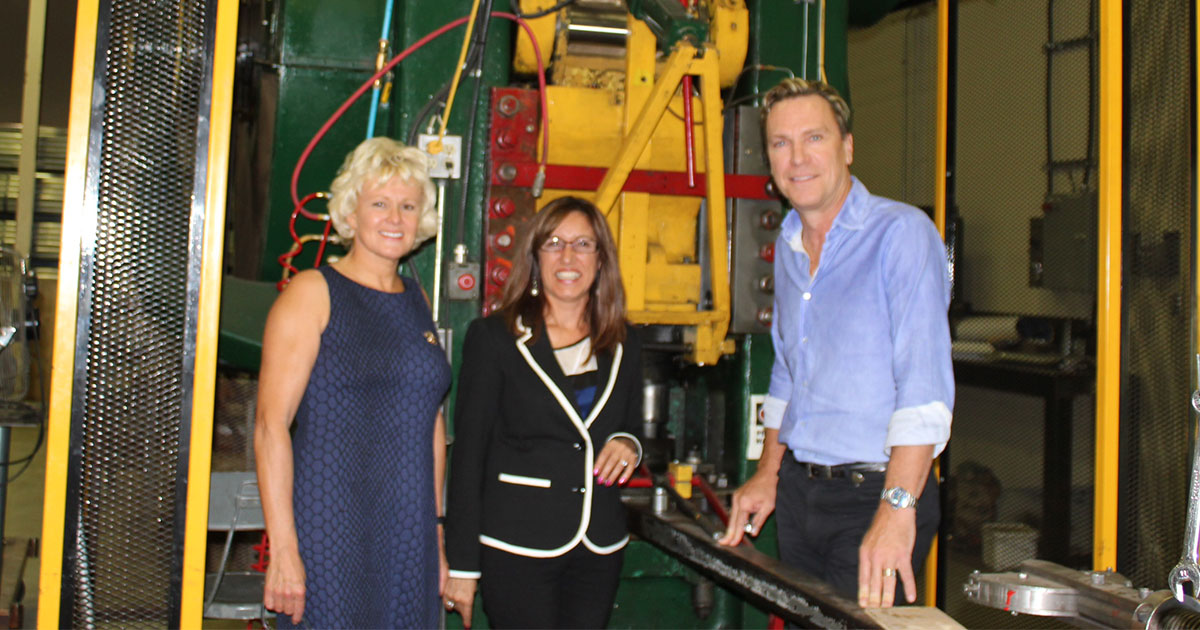 Photo:  MP Gallant with Sue Staniszewski and Dave Watson of Triodetic Canada.  Triodetic received EODP funding in 2013, which they used to market their products and services worldwide.
In this still fragile global economic climate, our Conservative Government continues to focus on creating more jobs and prosperity with pro-trade measures. We know from experience that trade is one of the most effective drivers of economic growth. In fact, 60% of our annual GDP relies on trade, and one out of every five Canadian jobs is related to exports. That's why we have been rolling out the most ambitious trade expansion plan in our nation's history. By actively pursuing new trade and investment opportunities with Europe, we are providing Canadian workers and businesses with preferred access to the largest, most dynamic and fastest growing economies and regions in the world.
The European Union (EU) is the largest economy in the world – with 27 member states, 500 million customers, and an annual economic activity of $17 Trillion. It is the world's largest import market for goods. The EU's annual imports are worth more than Canada's total gross domestic product! It has been projected that this deal will result in a 20% boost in bilateral trade and a $12 Billion increase in Canada's GDP. That translates to the economic equivalent of a $1,000 increase to the average Canadian family's income and up to 80,000 new Canadian jobs.
The conclusion of the Canada-EU Comprehensive Economic and Trade Agreement (CETA) in two years represents a huge opportunity for small and medium businesses in Renfrew County. The time to start planning to take advantage of this opportunity is now!
Canadians are increasingly purchasing online, and the same is true for Europeans. About 39% of Internet users indicated they engaged in e-commerce in 2009, and the total value of these online purchases was $15 Billion. In contrast, total retail sales by Canadian firms were $415 Billion that year. Despite the relatively large value of online sales, only 8% of firms reported selling online in 2007, the most recent year statistics were collected. There is no indication that this figure has changed.
Small businesses should submit an application to the EODP when the new funding becomes available in April of 2014 http://t.co/jaVihh8YYV

— Cheryl Gallant (@cherylgallant) December 5, 2013

The difficulty of encouraging more Canadian businesses to make the transition to e-commerce and the low overall take-up rate of digital technologies by Canadian businesses are closely linked. Investment per worker by Canadian businesses in information and communications technologies is 60% of that invested per worker by American businesses, our biggest competitors. Furthermore, in addition to the using it for information, more and more Canadians are using the Internet to market their businesses. What is not happening in Canada is a greater move to sell products online. In two years, 500 Million new potential European customers will be ready to buy Canadian. We must be ready to sell to them.
So why are small business owners embracing the Internet but slow to sell their products online? Much of it has to do with cost.
Recently, as your Member of Parliament, I announced a five year extension of the $48 Million Federal Eastern Ontario Development Program (EODP).
This program offers funding to help small and medium-sized businesses get better access and make use of technologies, like the internet. I urge local businesses to submit an application to the EODP when the new funding becomes available in April of 2014. The world is waiting for your products and services!
When our companies succeed abroad, jobs and growth are created here at home.