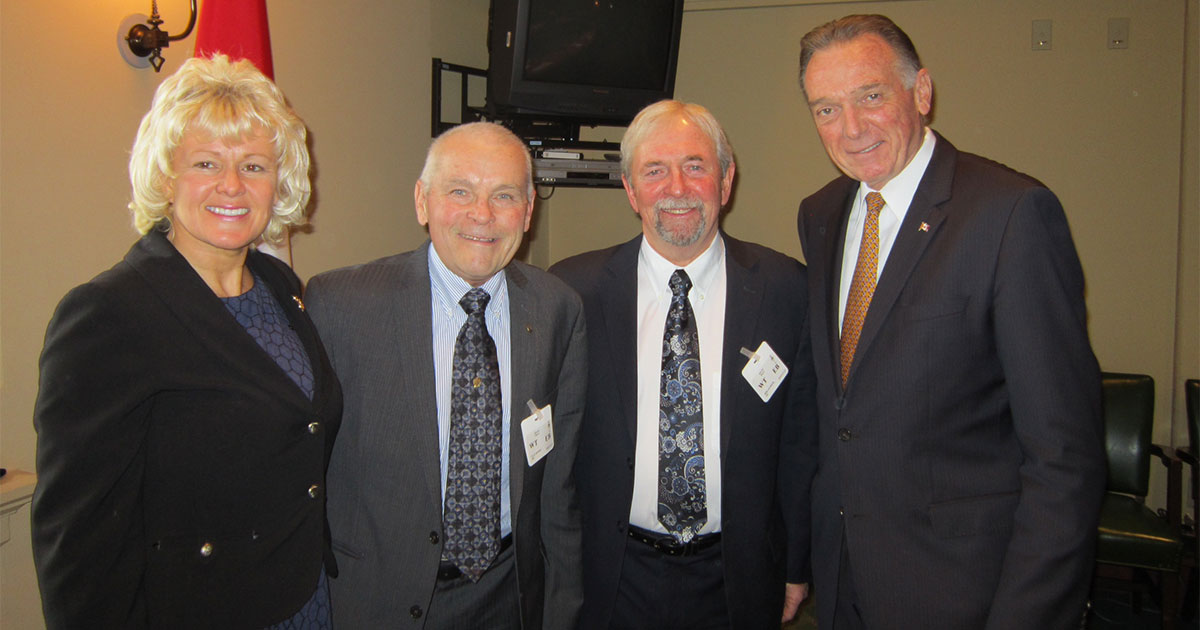 Photo: MP Cheryl Gallant, Bob Gilmour, Clay Dawdy, MP Peter Kent the day Bob & Clay appeared as witnesses on the Standing Committee on National Defence for its Study of the Ill & Injured
Ottawa, Ontario – Cheryl Gallant, M.P. for Renfrew—Nipissing—Pembroke, rose in the House of Commons to remember the life of Bob Gilmour, who volunteered at Calabogie Peaks. He passed away on Sunday, December 8th, 2013.
"We have lost a devoted member of the community and an advocate for the disabled with Bob's passing," said MP Gallant. "Bob's goal through his work was to make an impact on the lives of all those he encountered, and encourage them to try something they never thought possible."
Bob was very active with the Canadian Association for Disabled Skiing, which hosted its 3rd annual Winter Sports Clinic for service men and women and veterans with disabilities earlier this year.
The Winter Sports Clinic is based on the United States' Disabled Veterans Winter Sports Clinic, which Bob had attended as a volunteer instructor for 24 of the 28 years that the clinic has been ongoing. Six Canadian Veterans, along with 15 disabled American fully funded veterans, are scheduled to attend the Winter Sports Clinic early in 2014.
Bob's goal was to grow the Canadian Winter Sports Clinic over the next five years to include more than 50 retired and active injured soldiers.
Bob was also the Operations Manager of the Calabogie Adaptive Ski Program at Calabogie Peaks Ski Hill, which provides adaptive ski and snowboard learning opportunities to disabled children and adults. Thanks to Bob's hard work and devotion, this program has grown from 8 skiers assisted by 12 volunteers ten years ago to over 40 skiers assisted by 65 volunteers today.
"Although he has left us, Bob's legacy and efforts will live on in the community," stated MP Gallant.
Learn More About Soldier On and the Disabled Veterans Winter Sports Clinic
I rose in the House to remember the life of Bob Gilmour, volunteer at @CalabogiePeaks with #SoldierOn http://t.co/oy8zMOabQI

— Cheryl Gallant (@cherylgallant) December 10, 2013