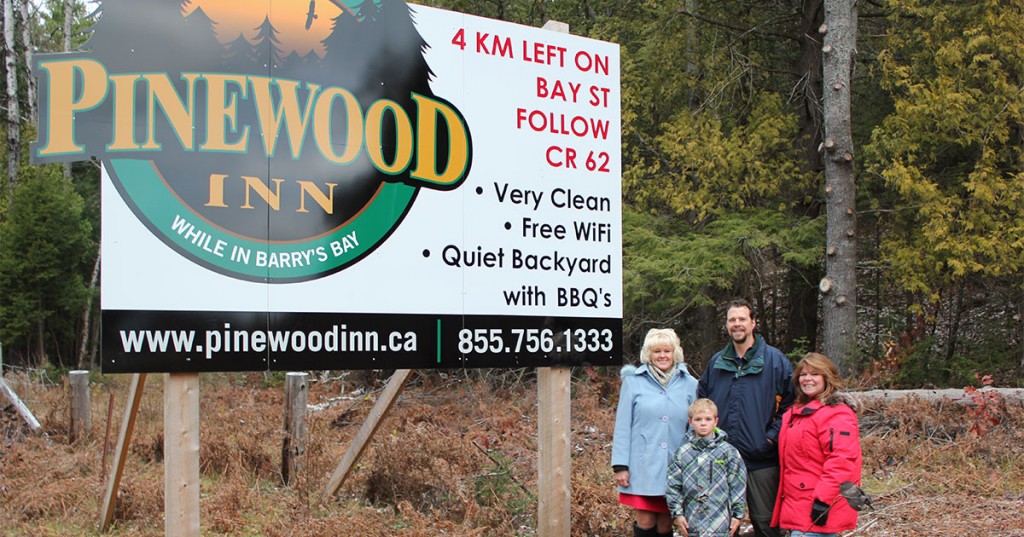 Photo: MP Cheryl Gallant with Mark & Yvette Boudrea-Smith and their son in front of one of the Pinewood Inn's new highway signs
Barry's Bay, Ontario – Cheryl Gallant, M.P. for Renfrew—Nipissing—Pembroke, was pleased to meet with Mark and Yvette Boudrea-Smith of the Pinewood Inn to announce the awarding of $2,737.97 in funding through the Federal Government's Eastern Ontario Development Program (EODP). The grant has been used to construct three large highway signs on land the Pinewood Inn has leased.
"I am very pleased that Mark and Yvette decided to move to Renfrew County and continue to make memories for the Pinewood Inn guests," said MP Gallant. "The signs that the EODP funding paid for will encourage tourists and help to make Barry's Bay a place to enjoy."
Two of the signs will be located on Highway 60, 4km east and 9km west of Barry's Bay. The third sign will be on Chippewa Road in between Barry's Bay and Combermere.
Administered through the Renfrew County Community Futures Corporation, the Eastern Ontario Development Program is a Government of Canada initiative, which promotes economic development in Eastern Ontario, leading to a diversified and competitive regional economy.