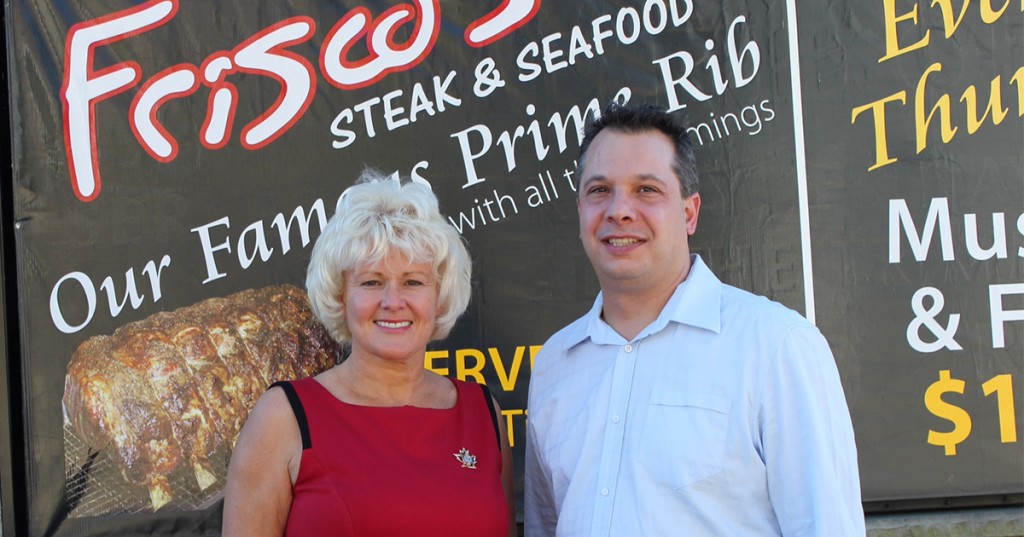 Eganville, Ontario – Cheryl Gallant, M.P. for Renfrew—Nipissing—Pembroke, was pleased to meet with George & Leah Pezoulas of Frisco's Steakhouse to see the results of $6,177,50  in funding through the Federal Government's Eastern Ontario Development Program (EODP).  The grant was directed towards marketing and promotional initiatives.
"George and Leah are quickly becoming the driving force for growth and employment in Eganville," said MP Gallant.  "We are also seeing the local multiplier effect on the EODP funding, as 3D Graphics of Eganville designed the new website for Frisco's Steakhouse."
The funding from the EODP helped to create new signage for the exterior of the building, updated rack cards, two new billboard signs for the highway entrances to Eganville, and a new interactive website, which they hope will be able to allow customers to submit orders online.
Administered through the Renfrew County Community Futures Corporation, the Eastern Ontario Development Program is a Government of Canada initiative, which promotes economic development in Eastern Ontario, leading to a diversified and competitive regional economy.
I was pleased to meet with George & Leah Pezoulas of Frisco's Steakhouse to see the results of $6,177,50 in funding http://t.co/6NdrFJtO0F

— Cheryl Gallant (@cherylgallant) January 8, 2014