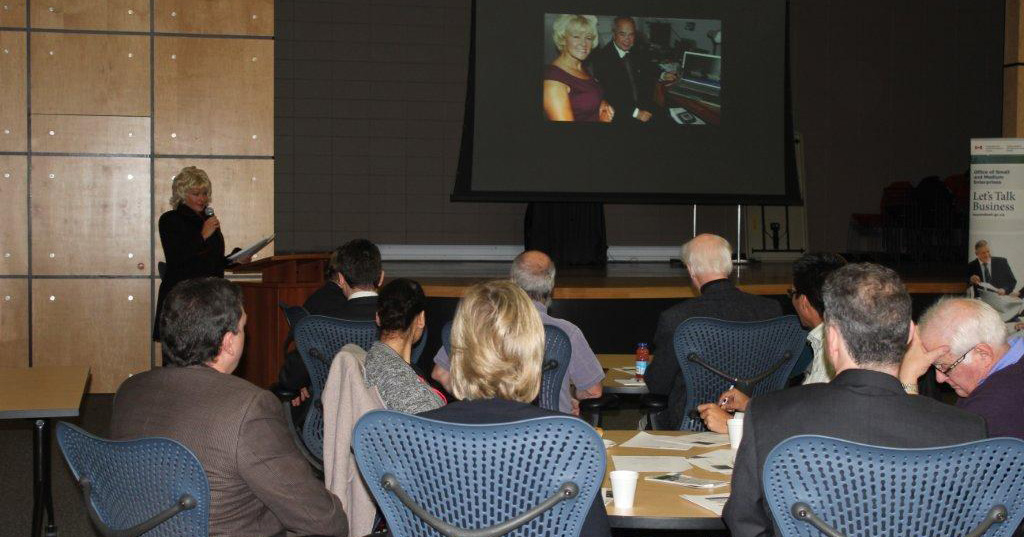 Deep River, Ontario – Cheryl Gallant, M.P. for Renfrew—Nipissing—Pembroke, was pleased to welcome innovators from across the Upper Ottawa Valley, Innovation Valley North, to AECL's Keys Campus in Deep River for an information session on  Federal Research and Development Initiatives.
Representatives from the National Research Council, and FedDev Ontario gave presentations on opportunities for Small and Medium Enterprises.  Public Works & Government Services Canada was also on hand to provide information on Smart Procurement and the Build in Canada Innovation Program.
Among those in attendance at the symposium were Haley Industries of Haley Station and Arnprior Aerospace from the aerospace sector, together with AECL and Bubble Technologies of Chalk River from nuclear related industries.  Also participating in the event were innovators in the fashion sector, Morning Mist Designs of Pikwàkanagàn, from the microbrewery industry, Whitewater Brewing Company of Foresters Falls, and with the agricultural technology sector, Steqcan from Westmeath.
"I was pleased with the turnout from Innovation Valley North companies to the briefing," stated MP Gallant.  "We are very grateful to AECL for providing the venue for the meeting and the tremendous support of Dr. Robert Walker, company President, all personnel from the business development branch, and those who assisted with electronic equipment."
This seminar was the first of a series planned for 2014 to showcase Federal programs available to companies in Renfrew County, as well as to promote networking between amongst leading job creators in the area.
Today I welcomed innovators from across Innovation Valley North, to AECL's Keys Campus #ottawavalley http://t.co/NKsJKeuCMF

— Cheryl Gallant (@cherylgallant) January 13, 2014