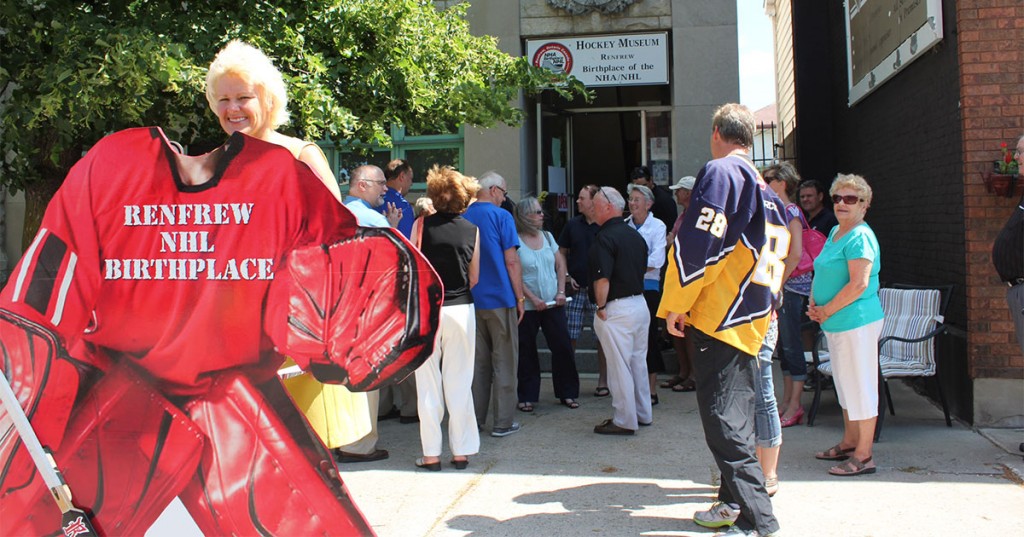 Now that winter is upon us, here in every community in the Ottawa Valley, people are lacing up their skates to enjoy our national pastime, skating and hockey! January 18th is Hockey Day in Canada. If you enjoy hockey and a good read, I recommend the book just published by Prime Minister Stephen Harper: A Great Game: The Forgotten Leafs and the Rise of Professional Hockey, an excellent read and one I enjoyed. One can reminisce about the Renfrew Creamery Kings (better known as the Renfrew Renfrew Millionaires by salaries paid by owner M.J. O'Brien), the Pembroke Seniors and the Arnprior Hockey Club of the Upper Ottawa Valley Hockey League. Learn about the events that eventually led to Renfrew having the honour of being the birthplace of the NHL.
You really cannot get more Canadian than having our Prime Minister, The Right Honourable Stephen Harper, writing a book on the early history of professional hockey and the beginnings of the Maple Leafs and the NHL. I think it is really unique that our Prime Minister wrote a book about hockey. It is a rare achievement for a world leader to write a book while in office, especially one that is not a personal memoir, or later a sad mea culpa of what they did not accomplish while in office.
Prime Minister Harper is donating the proceeds from this book to the families of those who serve in the Canadian Military. All author royalties from this book will go to Canadian Forces Morale and Welfare Services (CFMWS).
The CFMWS provides a variety of services, with personnel support programs, military family services, and casualty support, to name a few. Individual funds have been set up to fill any perceived void in government funding. Canadians are able to donate to funds directly that have been set up to assist serving and retired members of the Canadian Armed Forces.
The Military Families Fund allows for several areas of support, including rehabilitation, education, and financial assistance in the case of injury or death of a CF member due to service, and urgent and extraordinary financial demands where the ability to provide family necessities is at risk.
"Soldier On" was created in 2006 with the aim of supporting ill and injured military personnel having a permanent or chronic disability, both still serving and retired, and their families to attain an active and healthy lifestyle. It supports these personnel in increasing their independence, in developing new skills, in achieving goals and opening the door to other life opportunities. It furnishes an opportunity for them to socialize and explore common interests, and share learning experiences.
The Hospital Comforts Program was created in 2006 from a need to fill a perceived void with charitable works providing for the care and comfort of Canadian Forces members confined to hospital from injury, illness, accident or surgery. The purpose of the program is to provide support to the hospitalized member that is both consistent and sustainable within a framework to ensure the best possible services to the member.
The Canadian Forces Personnel Assistance Fund (CFPAF) provides financial assistance to serving and former members of the Canadian Forces and their immediate families. A member of the CF is generally eligible to apply for CFPAF assistance after completion of one year of service.
As your Federal Member of Parliament, I am pleased to represent you on a variety of issues. Whether that issue is eliminating the long gun registry, promoting agriculture, international trade, Canadian Unity, AECL, the military or jobs in the working forest, I am here to serve you! As always, if you have any concerns of a federal nature, or just want to share your views with me, please do not hesitate to contact my office.