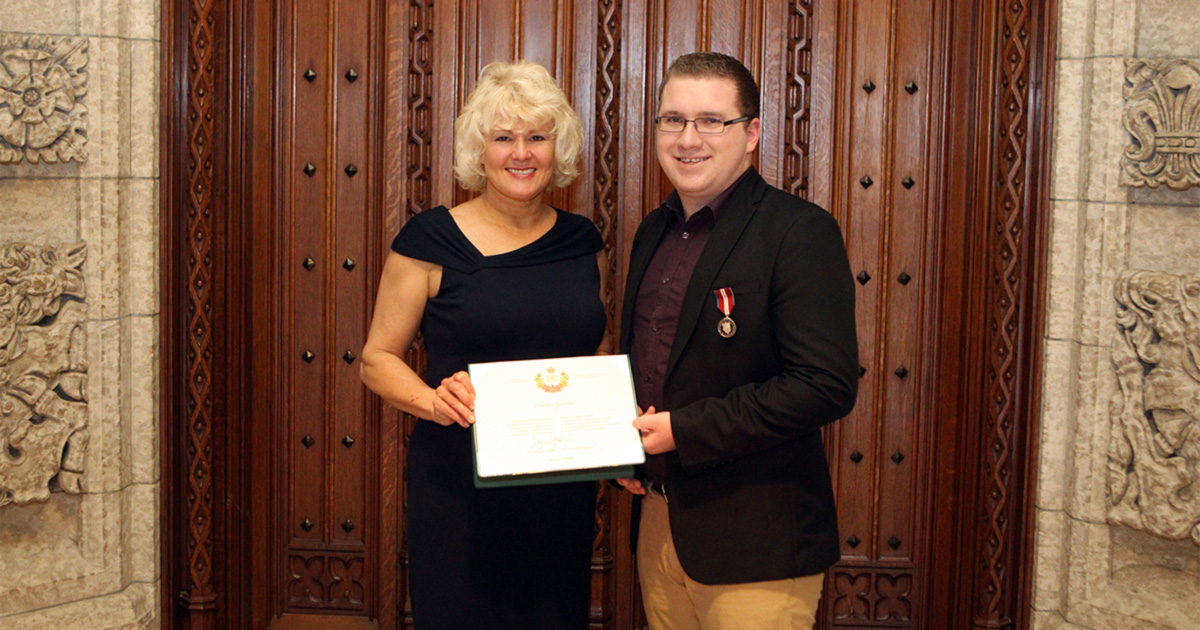 Ottawa, Ontario – Cheryl Gallant, MP for Renfrew—Nipissing—Pembroke, was pleased to present Dustin Garron of Renfrew with a Queen Elizabeth II Diamond Jubilee Medal.
A recipient of a national "Top 20 Under 20" Award and named by Maclean's Magazine as one of Canada Future Leaders under 25, Dustin is a tireless advocate of youth mental health issues both in his community and across Canada. Dustin is the founder of the youth led 'Mental Health Project', designed to bring awareness to mental health issues affecting youth in Canada.
For his work in the field, Dustin was selected as one of the five "Faces of Mental Illness" by the Mental Health Commission of Canada, and in March 2013 was appointed to sit on the Mental Health Commission's Youth Council. He was also named a spokesperson with Bell Canada's "Let's Talk" campaign for mental illness in 2013.
Dustin has appeared on Evan Solomon's "Power and Politics" show on CBC, and CBC Radio Morning Show to advocate for Mental Health issues. He has testified before the Ontario Standing Committee on Social Policy during their study of Bill 14, the Anti-Bullying Act, 2012.
"Dustin is a strong advocate for youth mental health in Renfrew and across Canada, and is a very worthy recipient of the Queen Elizabeth II Diamond Jubilee Medal," stated MP Gallant.