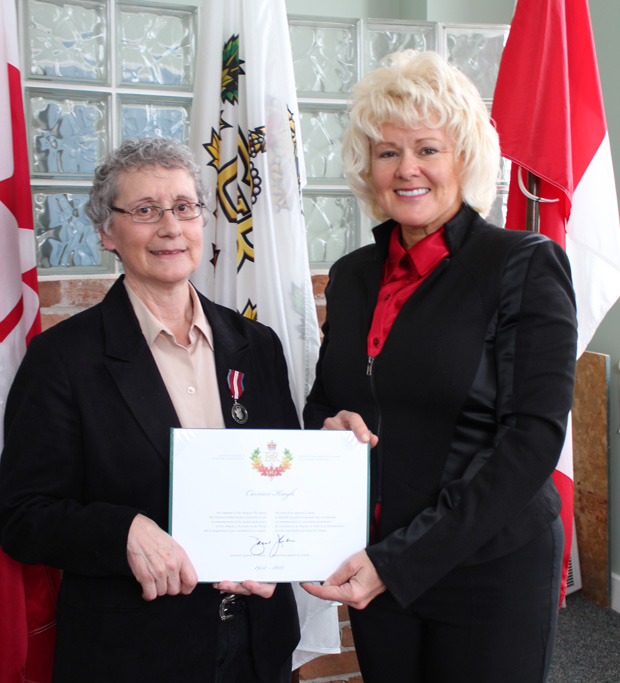 Killaloe, Ontario – Cheryl Gallant, M.P. for Renfrew—Nipissing—Pembroke, was pleased to present Carmen Krogh of Killaloe with a Queen Elizabeth II Diamond Jubilee Medal.
Carmen Krogh is a retired pharmacist with more than 40 years of experience as a health professional. Her career includes holding senior positions at a major teaching hospital, a drug information specialist, a professional association, and the Pest Management Regulatory Agency (PMRA) at Health Canada.
She was the former Director of Publications and Editor-in-chief of the Compendium of Pharmaceuticals and Specialties (CPS), the Canadian book used by physicians, nurses, and health professionals for prescribing information on prescription medication in Canada.
Carmen Krogh is recognized in Ontario, Canada and internationally for her research, peer-reviewed articles, educational activities regarding adverse health effects and industrial wind turbines (IWTs).
Her research is grounded in the real-life experiences of people who live amongst IWTs in Ontario and other jurisdictions. Her goal is evidence-based siting of IWTs that protects human health. Her research and educational efforts are self-funded.
"Carmen has dedicated her life to improving and protecting the health and safety of Canadians, and is a very worthy recipient of the Queen Elizabeth II Diamond Jubilee Medal," stated MP Gallant.