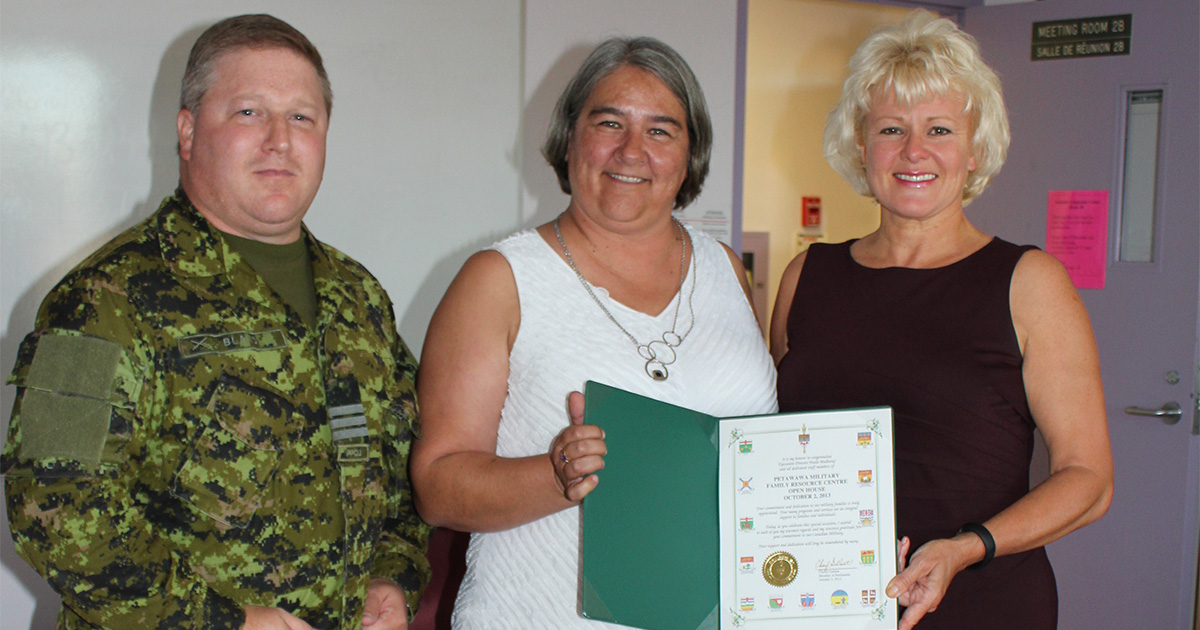 Photo: Cheryl congratulates Executive Director Paula Malboeuf of Petawawa Family Resource Centre at their Oct 5th Open House. Also Pictured, Lt. Col. Daniel Blanc, Commander 2 Area Support Group (2ASG) Personnel Services, CFB Petawawa.
Pembroke, Ontario – Cheryl Gallant, M.P. for Renfrew—Nipissing—Pembroke, wants to get the word out that the Canadian Armed Forces (CAF) has expanded its Family Information Line service to 24 hours a day, seven days a week, to better serve all military families.
"Over the past weeks I have heard from a number of military spouses, who are in distress over the Operational Stress Injuries (OSI's) their Canadian Armed Forces Member has been suffering from. Some have said they need help, too, but were not aware of the resources in place especially for them," said MP Gallant.
"The work that the Family Information Line does is absolutely essential to ensuring that families have the support they need when they need it," added MP Gallant. "The health and well-being of military personnel and families is one of the top priorities of the Department of National Defence and the CAF. This expansion of the Family Information Line will be of great help to fulfill this priority."
Managed by Military Family Services, a division of the Canadian Forces Morale and Welfare Services, the Family Information Line has deep roots supporting military families, building on the original Mission Information Line set up in 1992. The Family Information Line offers information, support and referral services to all CAF families, regardless of whether a family's loved one is deployed or not. The Family Information Line offers confidential, supportive counselling and information services accessible by phone or e-mail in both official languages.
Some of the trained counsellors on staff at the Family Information Line are military spouses themselves, or come from military families, and understand the unique circumstances that military families may face. In turn, they are able to bring that awareness and experience to the rest of the Family Information team.
Military families can access a host of services and programs offered by the CAF in the manner that best suits their circumstances. Access points include Military Family Resource Centres, located on bases and wings for in-person service, the Family Information Line, and the Family Force website, which is a resource for and about Canadian military families.
The Canadian Forces Morale and Welfare Services Group delivers a wide range of public morale and welfare programs, services, and activities to eligible members and their families. In partnership with bases, wings and units, the group ensures that CAF Regular and Reserve Force members, former CAF members, military families, Department of National Defence employees and Non-Public Fund employees enjoy the benefits of morale and welfare programs, services, and activities.
For more information, visit the Operational Stress Injury Social Support (OSISS) website at www.osiss.ca,
For more information about Mental Health and Operationial Stress visit cherylgallant.com/mental-health-operational-stress/