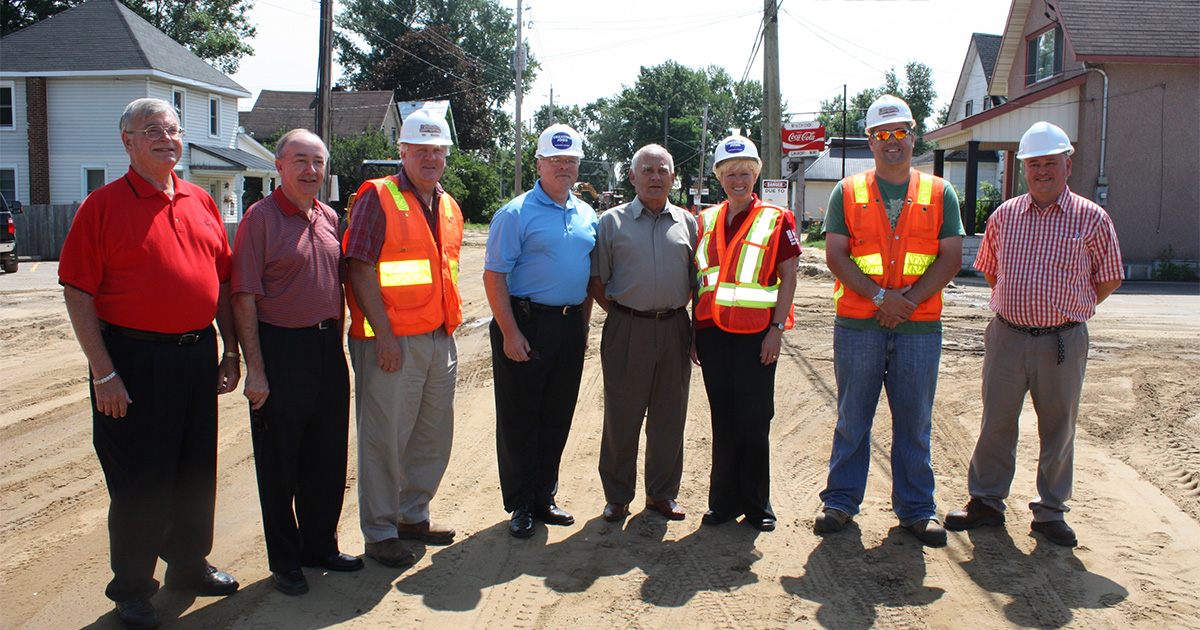 Photo: Cheryl Gallant, MP with Pembroke City council members and staff at a Building Canada construction site
Renfrew-Nipissing-Pembroke – Cheryl Gallant, Member of Parliament, on behalf of the Government of Canada, today highlighted important details of the $53B New Building Canada Plan announced in the recent Federal budget.
These details, which relate to key elements of the New Building Canada Fund, provide provinces, territories and municipalities with the information they need to plan infrastructure projects in their jurisdictions. They include dedicated funding for small communities, Provincial-Territorial allocations, project categories eligible for support, cost-sharing thresholds and public-private partnership (P3) screening requirements.
"The most recent tragedy on the "killer" highway once again highlights the need to get on with four-laning Highway 17 from Arnprior to Deux Rivieres," stated Cheryl Gallant, MP."If there is a way to get the job done rather than wait on provincial approval that never seems to happen, the new Building Canada Plan at least provides hope."
Economic Action Plan 2014 builds on our Conservative Government's historic infrastructure investments, with $70 billion for public infrastructure over the next decade, including the $53 billion New Building Canada Plan for provincial, territorial and municipal infrastructure. The New Building Canada Plan, which is expected to launch in Spring 2014, is the largest, long-term infrastructure plan in our nation's history, and it will continue to focus on projects that enhance economic growth.
"The economic development study developed by the County of Renfrew for the accelerated expansion of Highway 17 should fit that criteria," said MP Gallant. Through the P3 Canada Fund, $1.25B in new funding is available.
In 2007, our Government provided $33B in stable, flexible and predictable funding across the country. In fact, $6B under existing programs will continue to flow to projects across the country this year and beyond. Municipalities in Renfrew County have received over $33 million through the federal Gas Tax Fund.
"Our Government has proudly made unprecedented investments in Canada's infrastructure since 2006. I am extremely happy to announce that we have now released specific details about the New Building Canada Plan," explained Cheryl Gallant. "With the release of these details, our communities have the information needed to develop their local infrastructure priorities and start planning for the years ahead."