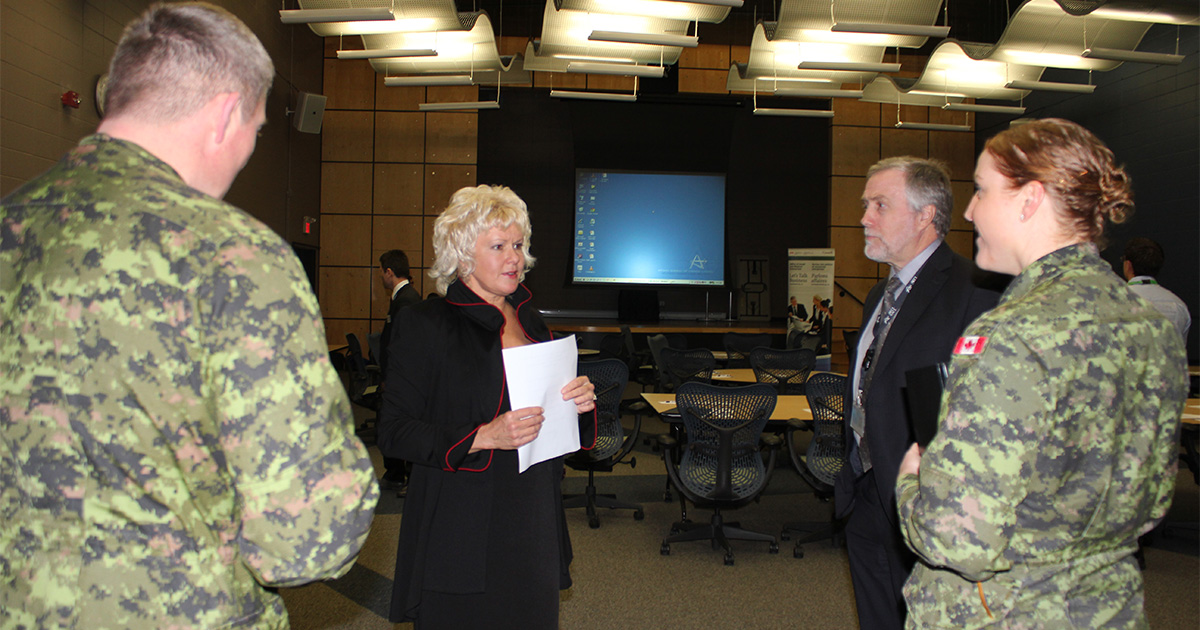 Photo: MP Gallant (Centre Left) with Dr. Robert Walker (Centre Right), Sgt. Major Rodney Purchase (Left) and Major Chloe Summerland (Right)
Ottawa, Ontario – Cheryl Gallant, M.P. for Renfrew—Nipissing—Pembroke, rose in the House of Commons to highlight the Federal Conservative Government's support of the two key pillars of Innovation Valley North – AECL and CFB Petawawa.
Innovation Valley North is MP Cheryl Gallant's vision to bring jobs and prosperity to the Upper Ottawa Valley. "Our government's Defence Procurement strategy is a perfect fit with Innovation Valley North. Innovation Valley North, in addition to developing synergy between existing Ottawa Valley employers, looks to build on AECL as well as CFB Petawawa, to stimulate local employment by creating a local supply chain."
Economic Action Plan 2014 proposes to provide $117 million over two years for Atomic Energy of Canada Limited to maintain safe and reliable operations at the Chalk River Laboratories, ensure a secure supply of medical isotopes, and prepare for the expected transition of the laboratories to a Government-Owned, Contractor-Operated model. The Government of Canada has announced that it is moving forward with the restructuring of AECL's nuclear laboratories to ensure that their operations are efficient and continue to meet the needs of Canadians.
MP Gallant drew attention to the vast green energy potential of Nuclear Power. Some of AECL's efforts at the Chalk River Labs focus on environmental remediation and nuclear waste management activities that are focused on addressing our government's commitment to a clean and healthy environment for Canadians.
"The Liberal Green Energy Act is forcing people in rural Ontario to have to choose between heating or eating. The future is Nuclear, for reliable, economic, green-house gas-free electricity, brought to you by the 70,000 Canadians that are employed in the Canadian Nuclear Industry, including the close to 3000 people employed at the Chalk River Laboratories of AECL." MP Gallant added.