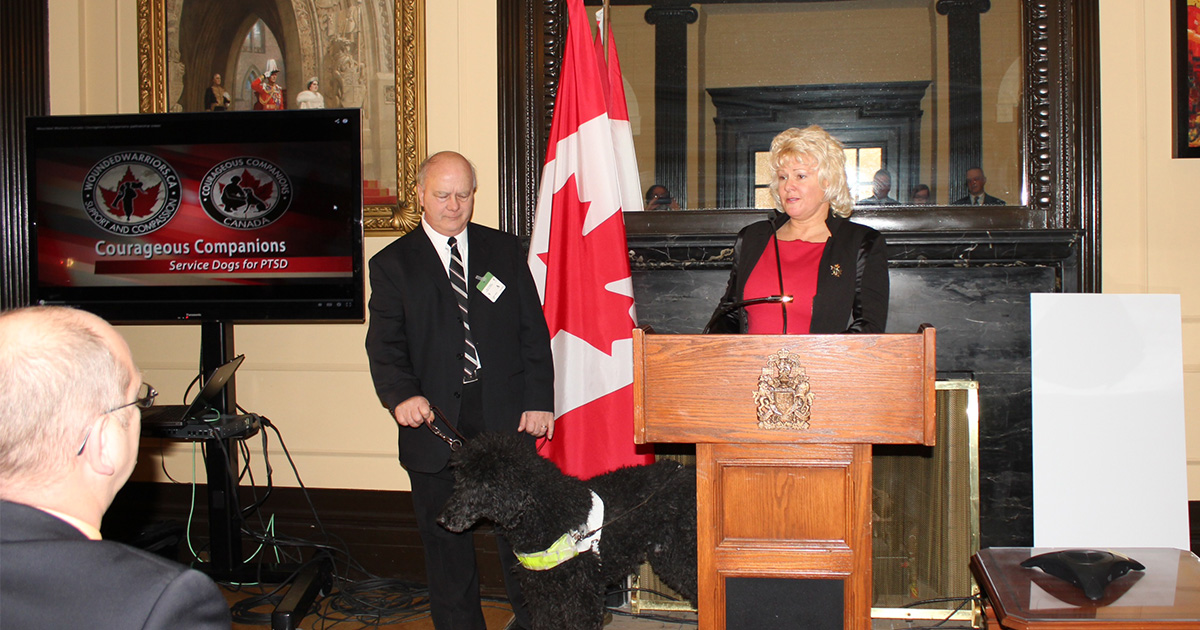 Photo: Cheryl Gallant, MP with Terrence Green hosting the presentation.
Wounded Warriors Canada makes a special Donation to the Program
Ottawa, Ontario – Cheryl Gallant, MP Renfrew-Nipissing-Pembroke, home to CFB Petawawa, was pleased to host Courageous Companions Canada on Parliament Hill. This special presentation marked the placement of their 100 PTSD Service dog, "Elijah". The dog was named "Elijah" to honour deceased Manitoba MLA Elijah Harper who was very supportive of the program. The dogs are trained by Manitoba Search and Rescue (MSAR). MSAR is an independent, non-governmental Search and Rescue Association with Aboriginal leadership.
To mark the placement of the 100th service dog, Wounded Warriors Canada received a $100,000 cash donation from Harris Rebar to be directed to Courageous Companions to fund the K9 program.
"I was pleased to be joined by Veterans Affairs Minister Julian Fantino to acknowledge the work of this organization. The donation to Courageous Companions will fund 22 service dogs," said MP Cheryl Gallant.
Courageous Companions is a project that provides specially trained service dogs to veterans who are struggling with post-traumatic stress disorder (PTSD) and other disabilities. The dogs are rescued from shelters and First Nations communities and then trained by volunteers.
There is no cost of any kind-All PTSD service dogs are donated free of charge to any Canadian Forces members (retired or active) in the program. Courageous Companions believes that our soldiers have sacrificed their future to defend our country. To show our gratitude, dogs are donated to their recovery. Dogs are acquired from shelters as the motto is "Rescuing One Soul to Save Another". The dogs are specifically chosen for their sociability and intelligence which decreases training time and provides maximum emotional support for the soldier working with the dog.
Present at the ceremony to give his story was Master Cpl Bill Nachuk. MCpl. Nachuk has been in the military for 16 years and served in Israel, Bosnia and Afghanistan. When Nachuck came back to Canada he was diagnosed with major depression disorder, PTSD and anger issues. Without his service dog, Gambler, he likely wouldn't still be alive, he said. "I went from four times in six months of suicidal threats and attempts, being almost kicked out of the military, addictions to alcohol and gambling" to being active and out in the community, he said. MCpl Nachuk went from being on the fast track for a medical release to recently finishing his course work for promotion to Sargeant. This week he signed a contract for indeterminate service, which secures his future in the military.