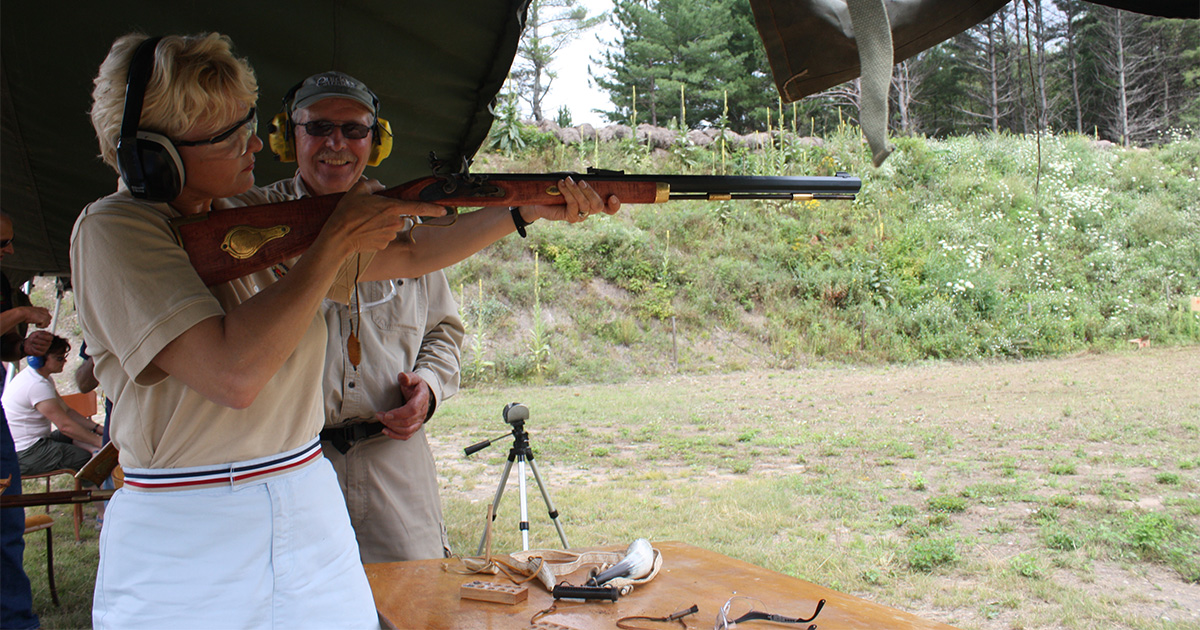 Photo: Cheryl Gallant MP enjoying "open house" at the Pembroke Sportsman Club
Ottawa, Ontario – Cheryl Gallant, MP Renfrew-Nipissing-Pembroke, is pleased to say thank-you to members of the law-abiding firearms community for their support of  Motion 452. Motion 452 would remove the responsibility from the RCMP for classifying categories of Firearms by establishing a Firearms Experts Technical Committee. In addition to being tasked to operate in a more open and transparent fashion, this Committee would operate with Civilian oversight.
"Motion 452 is a result of listening to my constituents and acting on their concerns. When I introduced this motion last fall, it was done after extensive consultation with the firearms community," stated Cheryl Gallant, MP. "With the recent actions by the RCMP in High River, Alberta and the re-classification of a firearm that had been legally available in Canada without incident for over ten years, I will be working very hard to see this motion pass."
Cheryl Gallant, MP is pleased to thank her MP colleagues, Blaine Calkins (Wetaskiwin, AB); Robert Sopuck (Dauphin-Swan River-Marquette, MB);Bev Shipley (Lambton, Kent-Middlesex); Jim Hillyer (Lethbridge, AB); Bob Zimmer (Prince George-Peace River, BC), Stella Ambler (Mississauga South); David Wilks (Kootenay—Columbia, BC) Rob Clarke (Desnethé—Missinippi—Churchill River);Rob Anders (Calgary West); Larry Miller (Bruce—Grey—Owen Sound); Jay Aspin (Nipissing–Timiskaming)for seconding her motion.
"The legislation governing firearms that our Conservative Government inherited from the old Liberal Opposition, Bill C-68, imposed "police state" powers on law-abiding Canadians whose private property includes a firearm. The fear in the firearms community is the party that brought in the War Measures Act to suspend civil liberties in Canada would not hesitate to take similar measures against them," observed MP Gallant.
"With the current head of the Liberal Party being easily controlled by his un-elected advisors, and his belief that Canada should be more like China, (which is a single party communist state), worried members of the firearms community believe laws need to be changed now to prevent arbitrary seizures of private property in the future."
M-452 — October 16, 2013 — Mrs. Gallant (Renfrew—Nipissing—Pembroke) — That, in the opinion of the House, the Minister of Public Safety should, with the approval of the Governor-in-Council, amend Sections 117, 118, and 119 of the Firearms Act to establish a Firearms Experts Technical Committee to restore public confidence in the functions and operation of the Canadian Firearms Registration System;… and (v) shall be composed of the following members, 1) RCMP, 2) Ontario Forensic Centre, 3) four individuals appointed to the committee as civilian firearms experts.
Share this news
Thank-you to members of the law-abiding firearms community for their support of Motion 452 #cdnpoli #m452 http://t.co/ynQyEdb9lO

— Cheryl Gallant (@cherylgallant) March 4, 2014