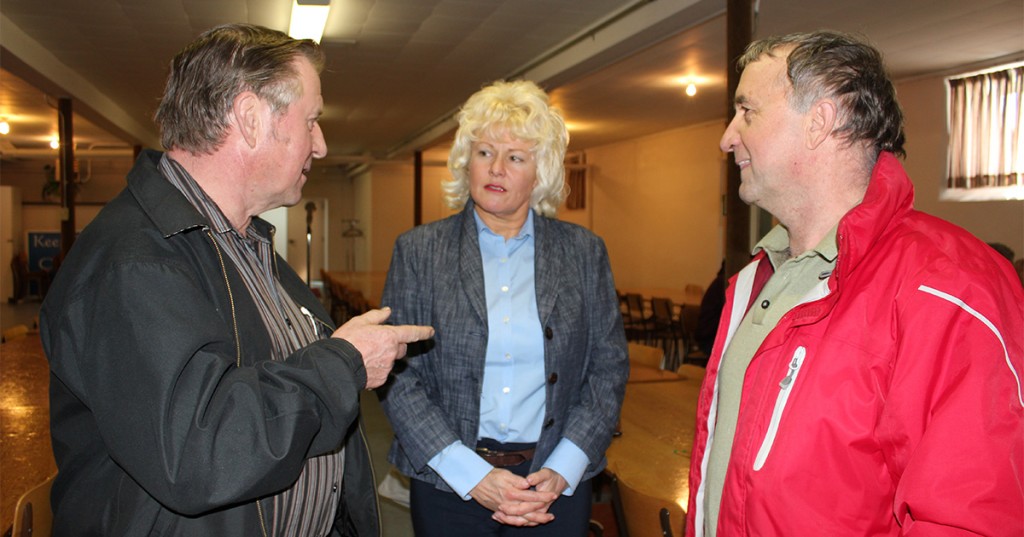 Photo: Cheryl Gallant, MP (middle) talking hydro charges with Killaloe, Hagarty and Richards Councillor and Renfrew County Private Landowners Association President John Jeffries and President of the Round Lake Property Owners Association Rob Norris.
Pembroke, Ontario – Cheryl Gallant, MP Renfrew-Nipissing-Pembroke will seek a federal review by the Competition Bureau at Industry Canada over any attempts by the Ontario Liberal government to sell Ontario electricity assets built and paid for by taxpayers.
"The recent announcement by the Ontario Liberals that they are looking to "boost value" is just another way of saying expropriation, price hikes or firesale. Price increases of 185% in the last 10 years is an abuse of monopoly," observed Cheryl Gallant, MP. "The rising cost of energy is causing unnecessary financial hardship for the people in my Riding, especially those individuals on fixed incomes. The last time the Liberals brought in a 'National Energy Program' under Pierre Trudeau, the country plunged into recession with interest rates rising to over 21%."
"Hydro One is a provincially-owned government monopoly. Hydro One individual customers have no choice when it comes to who supplies their electricity. Independent local power distribution companies like Ottawa River Power and Renfrew Hydro are forced to charge prices set in Toronto and are told where they get their power from. Even with those restraints, Ottawa River Power, which services Pembroke, Beachburg, Killaloe and Almonte, has the lowest rates in the province. Unlike Ottawa River Power, Hydro One had 67% of its employees on the hundred thousand dollar 2013 sunshine list, Ontario Power Generation(OPG) 77%. Both monopolies have unfunded positions in their pension and benefits programs that would look to remain the responsibility of Ontario taxpayers in any firesale."
When a dominant company exploits its market power in a way that hurts competition in the marketplace the Competition Act may come into play. The dominant firm or firms have the ability to set prices above competitive levels. The dominant firm or firms engage in anti-competitive acts — business practices that are intended to reduce competition. These practices include: buying up a competitor's customers or suppliers; using "fighting brands" (discount brands) to discipline or keep out competitors; cutting off essential supplies to rival companies; using long-term contracts to stop customers from changing suppliers; and overstepping authority granted by intellectual property rights such as trade-marks and patents. The anti-competitive acts have substantially lessened competition, or are likely to do so. This can happen when anti-competitive acts eliminate a rival or prevent such things as a rival's entry into a market, potential competition, product innovation and lower prices.
"Ottawa Valley residents, who live along the Madawaska and Ottawa Rivers, do not understand why their electricity bills keep rising when they see the province slop water over the power dams rather than generate, cheap, abundant, greenhouse gas free hydro electricity."
Since the provincial Liberal party came to power in 2003, the average electricity consumer has seen the cost of 800 kWh of electricity go from a monthly cost of about $34 to almost $97 (including the PST portion of the HST) — an increase of 185% in 10 years.