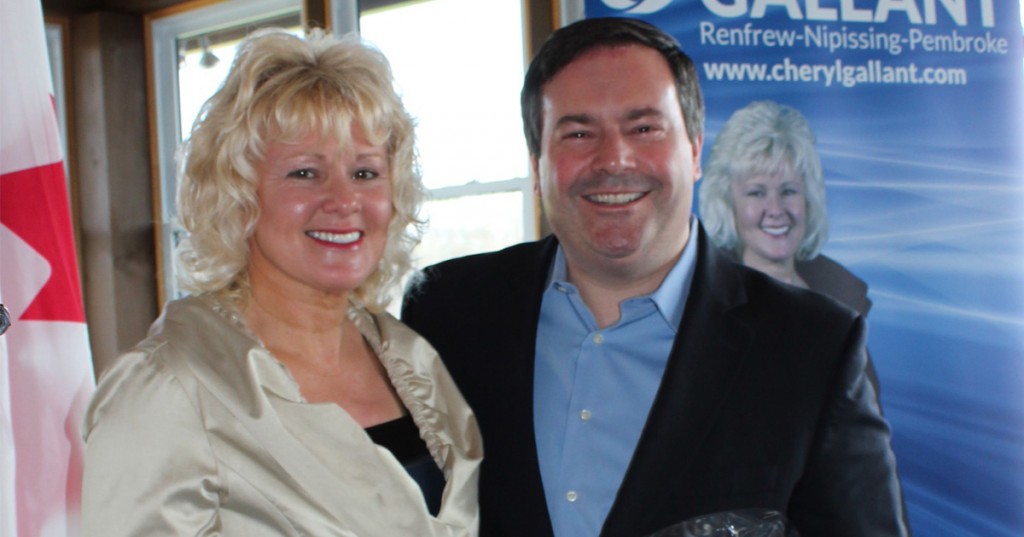 Cobden, Ontario – Cheryl Gallant, MP Renfrew-Nipissing-Pembroke, was pleased to welcome the Honourable Jason Kenney, Minister of Employment and Social Development, to an enthusiastic gathering of party faithful at the beautiful Oaks of Cobden Clubhouse.
"I am extremely grateful to Minister Jason Kenney for agreeing to come and speak to the people of Renfrew-Nipissing-Pembroke," stated Cheryl Gallant, MP. "He delivered a very powerful message, one of dedication and responsibility. I was pleased to note that as Canada's longest serving Immigration Minister, he has been recognized as the best for the job he was doing. He reminded the audience that Canadian citizenship is a privilege, a point that had been lost by the previous government."
"Jason Kenney is living proof where you can have a conscience, respect the views of others and be a Member of Parliament. That is lacking in the other political parties where prospective candidates are not allowed to oppose policies like euthanasia even if every single one of their prospective constituents is dead set against that policy. It's called being involved in politics for the right reasons, not just towing the party line," observed MP Gallant.
Minister Kenney was born in Ontario and raised in Saskatchewan, where he graduated from Notre Dame College. He did undergraduate studies in philosophy at the University of San Francisco. Kenney served as President and Chief Executive Officer of the Canadian Taxpayers Federation, prior to his election to the House of Commons in 1997 as Member of Parliament for Calgary Southeast.
Mr. Kenney became Parliamentary Secretary to Prime Minister Harper in 2006, and Secretary of State for Multiculturalism and Canadian Identity in 2007.As Canada's longest-serving Minister of Citizenship and Immigration from 2008 to 2013, Mr. Kenney implemented comprehensive reforms to Canada's immigration, refugee and citizenship programs. In July, 2013 he was appointed Minister of Employment and Social Development, with a mandate to ensure that Canadians are well-prepared to participate fully in the labour market of the future. He chairs the Cabinet Committee on Operations, is the Regional Minister for Southern Alberta, and sits on the Cabinet Committees for Social Affairs and Planning and Priorities.