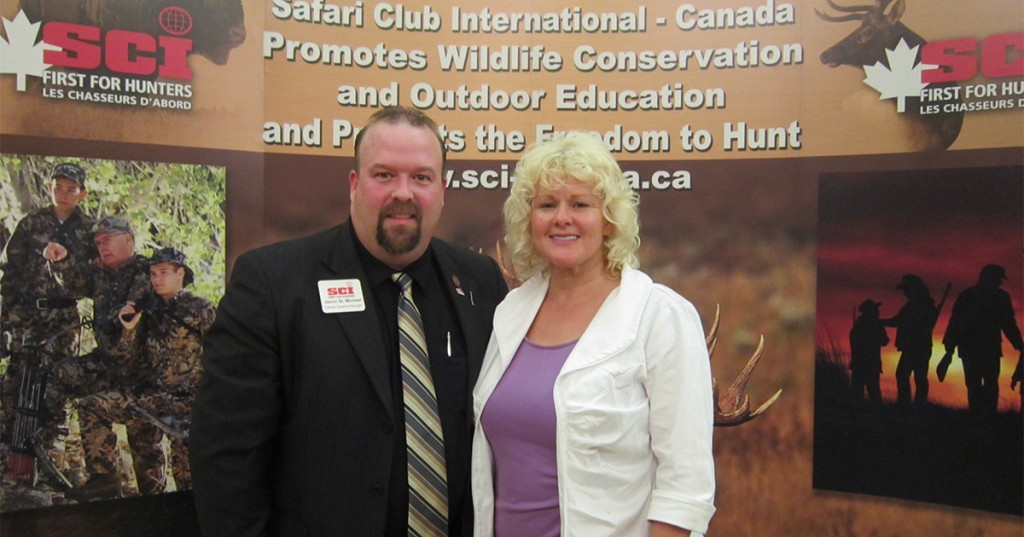 Ottawa, Ontario – Cheryl Gallant, MP Renfrew-Nipissing-Pembroke welcomed Petawawa resident Jason St. Michael, Field Co-ordinator of the Algonquin Branch of Safari Club International (SCI) to Ottawa to participate in "Wild Game Night" with the Federal Conservative Hunting and Angling Caucus.
"The Federal Conservative Hunting and Angling Caucus came together to defend the reputation of law-abiding hunters, fishermen and other outdoors enthusiasts that was a result of the negative campaign that was waged by supporters of the liberal long-gun registry. That negative campaign was based on mis-representing rural Canadians, particularly those individuals who like to hunt and fish," stated Cheryl Gallant. "Our caucus seeks to educate urban MPs. Our goal is to heal the divide between rural and urban MPs. Organizations like SCI go a long way to dispel myths about hunters."
The mission statement of SCI is to provide good fellowship among all who love the outdoors and hunting.
To promote conservation of the world's renewable resources and recognize hunting as one of the many management tools;
To educate youth, sportsmen and the public in conservation of our wildlife and our forest, which are our natural heritage;
To operate the association as a non-profit organization, while providing enjoyment for members;
Always with the goal of helping to conserve the animals that we love to hunt today for those who will come to love the sport tomorrow.
Legal hunting is the primary source of funding for wildlife conservation, research, and enforcement programs in North America and around the globe. More than a billion dollars are generated annually by the sale of hunting and fishing licenses, permit fees, taxes on outdoor equipment and on private land maintained for sporting activities. Safari Club members reinforce their commitment to conservation by funding more than 150 wildlife conservation projects annually. Many of the chapter projects receive matching grants from the Safari Club International Foundation combining for a yearly investment exceeding $1.5 Million.
In addition to the yearly conservation projects, they are involved in a wide variety of charitable programs such as: Feeding millions of hungry people through Sportsmen Against Hunger; Helping the sight-impaired experience the wonder of wildlife through Sensory Safaris; Making hunting dreams come true for terminally ill children through Safari Wish; Providing medical services and supplies to needy people in underprivileged countries through SafariCare.