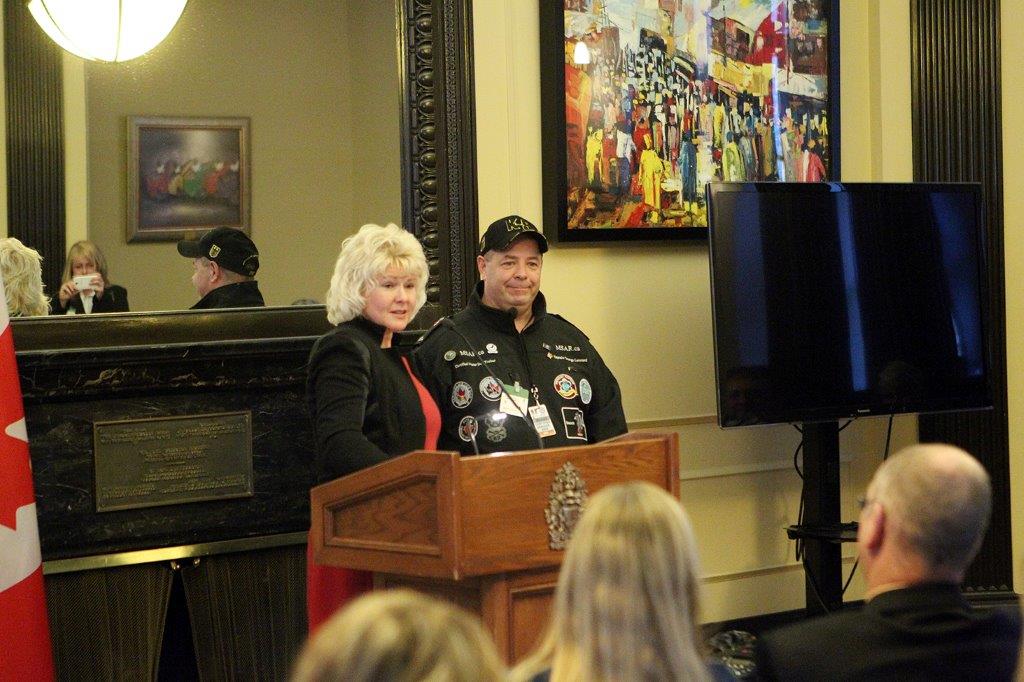 Ottawa, Ontario – Cheryl Gallant, M.P. for Renfrew—Nipissing—Pembroke, rose in the House of Commons to inquire into the Government's support for a project she has long been a proponent of inside and outside of Parliament – the use of service dogs to help Canadian Forces veterans suffering from Post-Traumatic Stress Disorder (PTSD).
"For a number of years, I have been hearing from veterans across the country that the Government needs to support the use of service dogs to help with the effects of PTSD," said Mrs. Gallant. "Many countries, including the United States, understand what a significant contribution these animals make to the veterans physical and mental well-being, a point which I have raised on the National Defence committee several times in the past."
Mrs. Gallant has been an advocate for the use of service dogs since 2010, then teamed up with Ottawa service animal advocate, Terrence Green.
Veterans and service dog organizations have expressed that the Government should be allowing the use of psychiatric service dogs to assist Veterans with PTSD. The dog accompanies the individual at all times, and assists him or her with the management of psychiatric symptoms that may occur throughout the day or night.
The efforts to match soldiers and veterans was embraced by Courageous Companions, based in Manitoba, who provide specially trained service dogs to veterans who are struggling with post-traumatic stress disorder (PTSD) and other disabilities.
"The dogs are rescued from shelters and First Nations communities and then trained by volunteers. So, when a team is trained, it is two lives that have been saved," commented Gallant.
Courageous Companions, which is entirely privately funded, recently celebrated the graduation and placement of its 100th service dog, Elijah, with a Canadian Forces Veteran in Alberta.
In reply to MP Gallant's question, The Minister of Veterans Affairs announced that the Government will be supporting a $500,000 pilot project that will provide service dogs for up to 50 veterans suffering from PTSD.