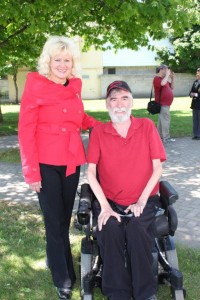 Ottawa, Ontario – Cheryl Gallant, M.P. for Renfrew—Nipissing—Pembroke, was pleased that her Private Members' Bill, Bill C-462, the Disability Tax Credit Promoters Restrictions Act, received Royal Assent on Thursday, May 29th, 2014.
"I am happy to see that my Private Members Bill, Bill C-462, has become law," said MP Gallant.  "This legislation will help ensure that disabled Canadians, Veterans, caretakers and guardians, receive the financial support they deserve, instead of fuelling a cottage industry that feeds off the misery of others."
The Disability Tax Credit Promoters Restrictions Act is intended to restrict fees that can be charged by a business preparing a Disability Tax Credit (DTC) application. It is a step forward in ensuring fair treatment of all eligible Canadian taxpayers.
The Disability Tax Credit is a non-refundable credit that may reduce the amount of income tax that either a person with a disability or their supporting person has to pay. To qualify, an individual must have a severe and prolonged impairment in physical or mental functions, as defined in the Income Tax Act and as certified by a qualified practitioner.
MP Gallant added, "Private Members Legislation is a slow process, and few of the bills become law.   I am grateful for the cooperation of my colleagues in the House of Commons and Senate in giving unanimous consent to my bill as it passed through Parliament."
Bill C-462 was introduced into the House of Commons on November 7th, 2012, and was first debated on February 5th, 2013.  Bill C-462 is the first Private Members Bill to receive Royal Assent in the 2nd Session of the 41stParliament, and only the 16th since the 2011 federal election.  Only 11 Private Members Bills become law in the five years of minority Government between 2006 and 2011.