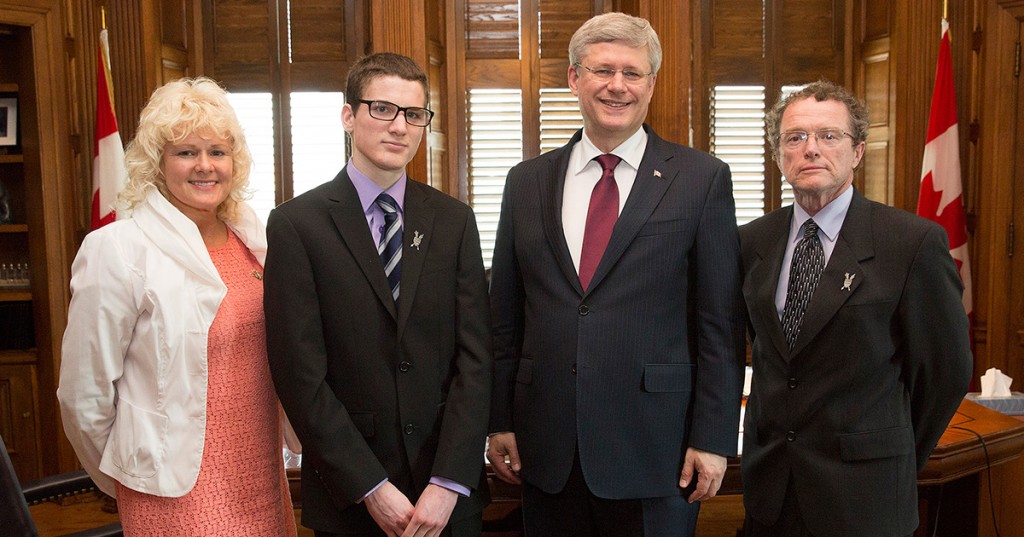 Ottawa, Ontario – Cheryl Gallant, M.P. for Renfrew—Nipissing—Pembroke, was pleased to see Pembroke's Dr. Mike O'Grady and his son, Arthur, meet with Prime Minister Stephen Harper to discuss an issue of interest to all three, the history of hockey in Canada.
"Dr. O'Grady and his son Arthur have expressed how delighted they were to have the opportunity to meet Prime Minister Harper," said MP Gallant. "Renfrew County has a rich hockey history, from the Renfrew Millionaires to the NHL Birthplace Museum. It was great to see local hockey enthusiasts share their knowledge with our Prime Minister."
As an avid amateur hockey historian himself, Dr. O'Grady presented the Prime Minister with some original historical documents from the early days of hockey in Canada. Mike shared decades old newspaper clippings and a program from an early hockey tournament. To assist with the research on any future books, Mike wanted the PM to keep the newspaper clippings and other historical documents so they can be shared with all Canadians.
Dr. O'Grady also challenged the Prime Minister with some hockey trivia. He asked Prime Minister Harper about the history of the hockey puck and how it came to be a flat round disk. The PM explained that the modern puck started out as a round ball used in field hockey. Since the round ball bounced unpredictably on the ice and the decision was made to transition to a flat puck instead.
The Prime Minister enjoyed sharing his passion for hockey with the O'Grady's. Mike and Arthur left with a signed copy of the Prime Minister's book, "A Great Game" and fond memories of their visit to Parliament Hill.