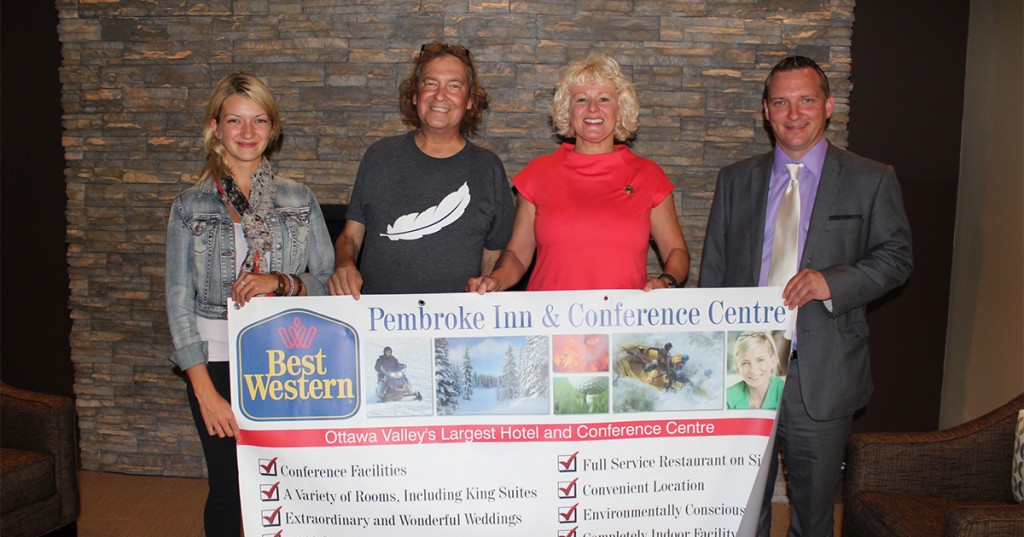 In Photo: Chessa Sabourin, Peter Sabourin (known as Sab), Cheryl Gallant, and Dale Gagne, General Manager of Best Western
Pembroke, Ontario – Cheryl Gallant, M.P. for Renfrew—Nipissing—Pembroke, was pleased to award the Sabstock Music Festival with federal funding of $8,800.00 through Heritage Canada's Canadian Identity Funding of Local Arts and Heritage Festivals.
"I congratulate Peter, Tina, and Chessa Sabourin for their hard work in organizing and promoting this showcase of local talent," said MP Gallant. "Wisely, the Federal Government chose to support Sabstock, together with a number of other local music, art and heritage festivals taking place across Canada this summer."
The 6th edition of Sabstock will take place on July 4th, 2014 to July 6th, 2014 in Laurentian Valley Township. Activities include rock, pop, country, blues and Celtic music performances and workshops, theatrical performances, local heritage arts and crafts demonstrations, and an Aboriginal Dance with Drum Circle.
Sabstock is a local unincorporated non-profit organization that promotes and supports the arts in the Ottawa Valley. The funding announcement took place at the Best Western in Pembroke. The Best Western is one of the major sponsors of the Sabstock Music Festival.
Renowned Ottawa Valley Fiddle Player "April Verch" will be amongst the many performers. Other headliners of the festival include Honeymoon Suite, Myles Goodwin and April Wine, Harper and the Midwest Kind, Donnie Walsh, and Sab and the Family Band.
For more information on locations, groups or to purchase tickets you can visit Sabstock's website, www.sabstock.com.