Common sense changes to firearms licensing announced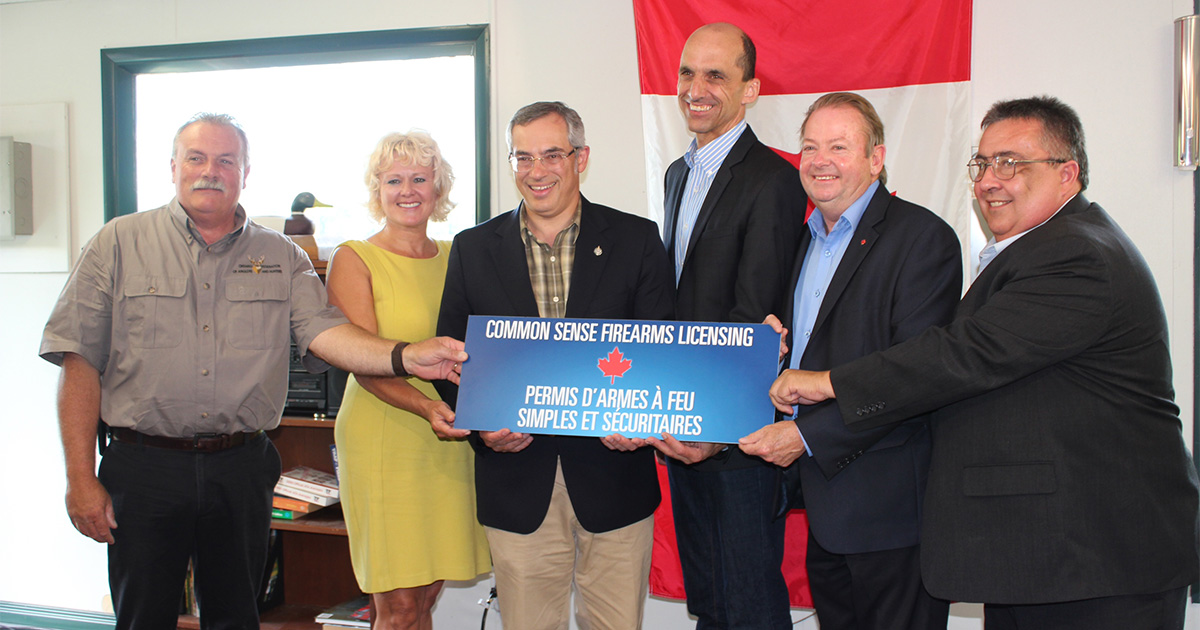 Photo: Joining Cheryl Gallant, MP for the announcement are (L to R) Greg Farrant, Legislative Director, Ontario Federation of Anglers and Hunters; Cheryl Gallant, MP; Tony Clement, MP Parry-Sound Muskoka; Steven Blaney, Federal Minister for Public Safety; Jay Aspin MP Nipissing-Timiskaming; Tony Bernardo, Executive Director Canadian Sports Shooting Association.
North Bay, Ontario – Cheryl Gallant, MP joined Public Safety Minister Steven Blaney; Ontario Federation of Anglers and Hunters representative Greg Farrant; Tony Bernardo, Executive Director of the Canadian Sports Shooting Association and fellow Conservative MPs Tony Clement and Jay Aspin, to share in the announcement that reforms requested by the law-abiding firearms community are on the way.
"Thank-you to our local hunters and farmers as well as all sportsmen for their suggestions that I was able to present to our Conservative Government," stated Cheryl Gallant, MP. "This demonstrates once again that our Conservative Government listens to people's concerns. In this case we have responded with common sense changes to firearms licensing, like eliminating the need for 2 firearms licences, (one for possession and one for possession and acquisition), by combining them into one, as well as requiring all FIRST TIME firearms owners to take a safety course."
Two of the reforms proposed under the Common Sense Firearms Licensing Act, are similar to a petition started by MP Cheryl Gallant nearly two years ago. The petition called for the repeal of section 58 (1) of the Firearms Act, which allowed Chief Firearms Officers (CFOs) to attach 'reasonable conditions' top firearms licences, and making Authorizations to Transport part of any firearms licence. This petition received nearly 10,000 signatures from firearms owners nationwide, with supporters from all provinces and territories.
"We knew that we had made a good start when we repealed the most odious aspect of Bill C-68, the Liberal Long-Gun Registry. Canadians recall Bill C-68 as a cover for Liberal/NDP "blame the victim" crime policies. Big city Liberal MPs preferred to attack rural, law-abiding hunters and farmers as a knee-jerk response to the guns and gangs violence in places like Toronto and Montreal, rather than support actual solutions and our legislation that actually targets real criminals," concluded MP Cheryl Gallant.
MP Gallant has two pieces of legislation on responsible firearms reform introduced into the House of Commons. Motion M-439 calls for the replacement of the CFOs with a single, service-oriented national firearms officer, to ensure the laws and regulations relating to firearms are enforced evenly across the country. MP Gallant's other motion, M-452, calls for the responsibility of firearms reclassification to be removed from the RCMP, and given to an impartial civilian firearms technical experts committee. For more information on MP Gallant's activism on the firearms issue please, visit www.cherylgallant.com.