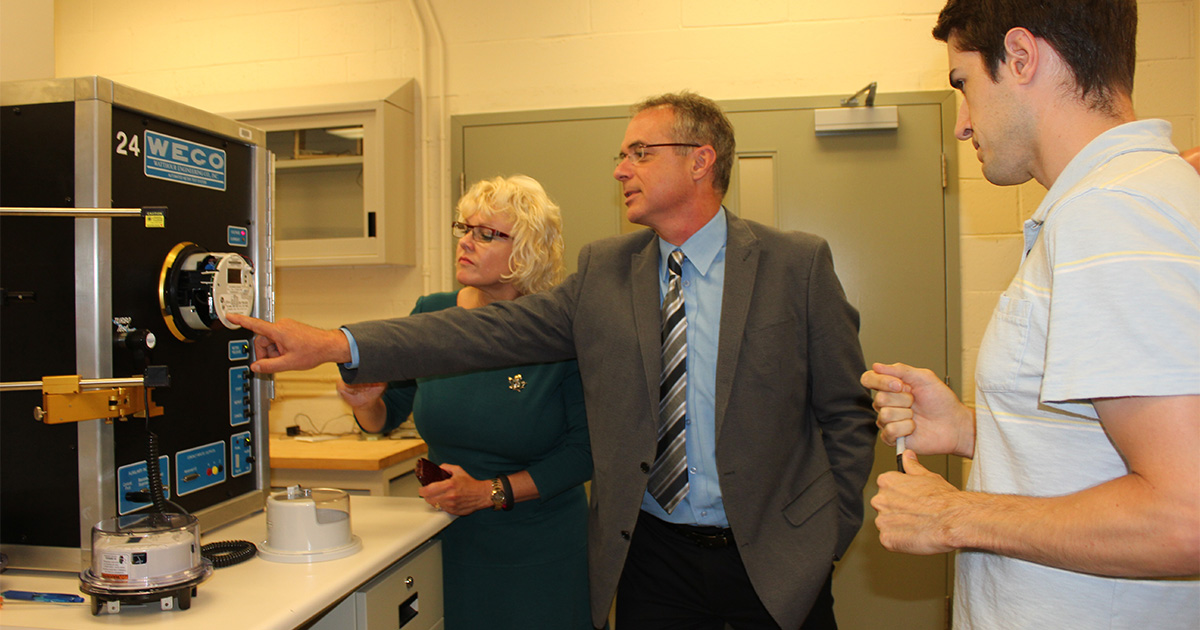 Ottawa, Ontario – Cheryl Gallant, MP recently met with Industry Canada officials regarding the controversial Ontario Hydro One "smart meter" program. The meeting was a result of an investigation that was requested by the Renfrew-Nipissing-Pembroke MP due to the thousands of complaints she has received about Hydro One. While the regulation of electricity is a provincial responsibility, measuring devices like electricity meters falls under Federal jurisdiction.
"When I started my investigation into Hydro One so-called smart meters after receiving thousands of complaints from electricity customers, the Saskatchewan smart meter fires that prompted calls to remove all installed meters in that Province were not yet in the media," observed Cheryl Gallant, MP. "While our Federal Minister of Industry was already working with me in my investigation, the observation that other jurisdictions were experiencing problems with the new electricity meters added a sense of urgency to my investigation," remarked MP Gallant. "The odd fact about the billing problems and smart meters at Hydro One, is that they seemed to be confined only to the Ontario Provincial Crown Corporation. Ottawa River Power Solutions, one of our locally-controlled electricity distribution companies, verified that in 10 years, they received no complaints about their smart meters."
"Measurement Canada, the Federal Agency at the Department of Industry tasked with the responsibility to regulate metering devices, confirmed for me the problem is not with individual electricity meters when they are received from the manufacturer for certification. Laboratory tests confirm this. That means the problem is with Hydro One. "Whether it's corruption of data between meters and the billing department, erroneous estimates where connectivity does not exist, gross incompetency or something else on the part of the provincial government, this merits further investigation."
"Measurement Canada also confirmed to me its interest is seeing full disclosure on an individual's Hydro One bill. Of particular note is the charge for "line loss." It is not clear what the "line loss" or "delivery" charge on someone's bill is actually for. Actual line loss is an easy calculation. Hydro One and the provincial government have made the calculation so convoluted, this needs an independent investigation. This is all about fairness. Not considered a tax, electrical use increases hurt more than a tax hike because at the end of the day you have less money in your pocket for food, rent, heat mortgage payments and other necessities of life," concluded Cheryl Gallant, MP.